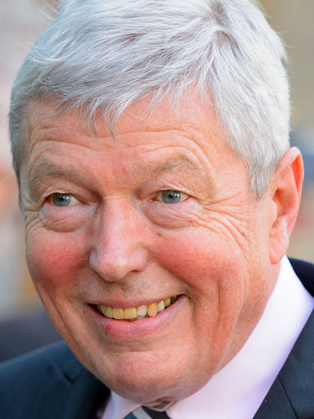 Best known for:
Best known for being the Labour Home Secretary from 2009 – 2010.
Summary:
In 2004 Tony Blair brought Alan into Cabinet as Secretary of State for Work & Pensions. In less than a year he was promoted to Trade & Industry and then Education & Skills, before Gordon Brown became Prime Minister and moved him across to Health. He stayed at the helm of Labour's flagship department for two years, before taking over from Jacqui Smith at the Home Office where he remained until the Coalition came to power in the 2010 General Election.
Biography:
Alan Johnson was born in May 1950. Educated at Sloane Grammar School, Chelsea. He became a postman in London in 1968 and at the same time joined the Union of Communication Workers.
In 1969 he transferred to Slough in Berkshire. He was elected to the Branch Committee in 1973 and became Chairman of the Slough Branch in 1976. Alan was elected to the National Executive Council of the Union of Communication Workers in 1981.
In 1987, Alan became a full-time Officer of the UCW, mainly responsible for national negotiations on behalf of 100,000 postal, delivery and sorting staff.
He became the youngest General Secretary in the history of the UCW when he was elected to the post in January 1992.
He was also a Director of Unity Trust Bank plc. and a member of Ruskin College Oxford Governing Council.
Mr Johnson served on the General Council of the TUC and was a member of the National Executive Committee. He was also a member of the World Executive of Postal, Telegraph and Telephone International to which the UCW was affiliated.
When the Union of Communication Workers and the National Communication Union merged in January 1995, Alan Johnson became Joint General Secretary.
He was elected Labour MP for Kingston upon Hull West and Hessle on 1st May 1997, and made his maiden speech about the long campaign for trawler men's compensation which he eventually led to success in 2000.
He has also spoken in the Commons on the Post Office Matters, the Jenkins Report (he is a leading advocate of electoral reform), working time, fairness at work, fisherman's pensions and the loss of the trawler "Gaul".
Alan served on the Trade and Industry Select Committee until he was made Parliamentary Private Secretary to the Financial Secretary to the treasury in December 1997. A year later he became PPS to the Paymaster General. Alan was promoted to the position of minister for competitiveness at the Department for Trade and Industry in the summer of 1999.
Following the 2001 General Election, Alan was promoted to Minister of State for Employment Relations and Regions, at the DTI, Industry was added to his portfolio in 2002.
In the reshuffle of June 2003, Alan was given a new post with another department as Minister of State for Lifelong Learning, Higher and Further Education at the Department for Education and Skills (DfES). It was in this role that he helped to steer legislation introducing tuition fees onto the statute books arguing that in 40 years of free higher education the social class gap had widened rather than narrowed. Graduates should make a contribution to their degree course (£1 in every £14 spent) to help fund the expansion of Higher Education and the return of maintenance grants for the poorest students.
On September 8th 2004 Alan was asked by the Prime Minister to become a Cabinet Minister taking on the role of Secretary of State for Work and Pensions.
The Labour Party celebrated achieving an historic third term on May 5th 2005. After the election Alan became Secretary of State for Trade and Industry.
The Prime Minister announced a major reshuffle to his cabinet on Friday 5th May 2006 which led to his appointment as Secretary of State for Education and Skills.
Alan came second to Harriet Harman in the 2007 contest for Deputy Leader of the Labour Party.
On June 27th 2007 Gordon Brown became the 74th British Prime Minister and made Alan Secretary of State for Health.
Two years later, Alan was appointed Home Secretary and shadowed this position for five months following Labour's defeat in the 2010 General Election.
In October 2010 Ed Miliband, as the newly elected Leader of the Opposition, asked Alan to serve as his Shadow Chancellor, a role he carried out until his resignation from the Shadow Cabinet for personal reasons in January 2011.
He remains an active Member of Parliament, and a leading advocate for electoral reform. His moving, entertaining and passionate memoir This Boy won the prestigious Orwell Prize for non-fiction and The Royal Society of Literature's Ondaatje Prize. Alan's second volume of his biography "Please Mister Postman" was released in 2014 and has won The National Book Club Award for Best Biography.
With such a wide range of government experience, Alan resonates with all manner of audiences. Aside from keynote presentations on related areas, he is also an adept and immensely engaging after dinner speaker. Along with tales of delivering the post in upmarket Buckinghamshire, he might well reveal how his last minute intervention saved the Prime Minister from rebranding the DTI. (Nobody else had spotted that the proposed name would inevitably result in it being known by a comically inappropriate acronym.)
Fee range:
5,000-10,000 GBP