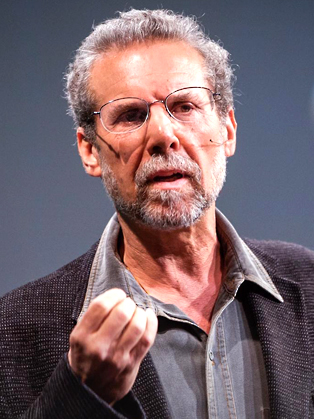 Best known for:
Internationally renowned psychologist Daniel Goleman is best known for his outstanding work on emotional intelligence, the brain and behavioural science.
Summary:
Author, psychologist, and science journalist. For twelve years, he wrote for The New York Times, specializing in psychology and brain sciences. He is the author of more than 12 books on psychology, education, science, ecological crisis, and leadership. He is a two-time Pulitzer Prize nominee.
Biography:
Author of Emotional Intelligence and psychologist, Daniel Goleman has transformed the way the world educates children, relates to family and friends and does business.

In 2008 The Wall Street Journal included Dr. Goleman in its top 10 ranking of influential business thinkers. In 2002 he was named one of the top 10 business intellectuals by the Accenture Institute for Strategic Change. A reporter on the brain and behavioural science for The New York Times for 12 years and twice nominated for the Pulitzer Prize, he was awarded the American Psychological Association's Lifetime Achievement Award.
Daniel Goleman is an internationally known psychologist who lectures frequently to professional groups, business audiences, and on college campuses. As a science journalist Goleman reported on the brain and behavioural sciences for The New York Times for many years. His 1995 book, Emotional Intelligence was on The New York Times bestseller list for a year-and-a-half, with more than 5,000,000 copies in print worldwide in 40 languages, and has been a best seller in many countries. Apart from his books on emotional intelligence, Goleman has written books on topics including self-deception, creativity, transparency, meditation, social and emotional learning, eco-literacy and the ecological crisis.
The Harvard Business Review called emotional intelligence— which discounts IQ as the sole measure of one's abilities — "a revolutionary, paradigm-shattering idea" and chose his article "What Makes a Leader" as one of ten "must-read" articles from its pages. Emotional Intelligence was named one of the 25 "Most Influential Business Management Books" by TIME Magazine. The Financial Times, Wall Street Journal and Accenture Institute for Strategic Change have listed Goleman among the most influential business thinkers.
Goleman is a co-founder of the Collaborative for Academic, Social, and Emotional Learning originally at the Yale Child Studies Center and now at the University of Illinois at Chicago. CASEL's mission centres on bringing evidence-based programs in emotional literacy to schools worldwide.
He currently co-directs the Consortium for Research on Emotional Intelligence in Organizations at Rutgers University. The consortium fosters research partnerships between academic scholars and practitioners on the role emotional intelligence plays in excellence.
Goleman is a board member of the Mind & Life Institute, which fosters dialogues and research collaborations among contemplative practitioners and scientists. Goleman has organized a series of intensive conversations between the Dalai Lama and scientists, which resulted in the books Healthy Emotions, and Destructive Emotions. He is currently editing a book from the most recent dialogue on ecology, interdependence, and ethics.
His most recent book, Leadership: The Power of Emotional Intelligence, offers an up-to-date summary of his thinking on leadership by collecting key excerpts from his books together for the first time in one volume with his articles from the Harvard Business Review. These include "What Makes a Leader? and "Leadership that Gets Results."
Goleman's other recent book, The Brain and Emotional Intelligence: New Insights, gathers together recent findings from brain research and other sources on topics ranging from creativity and optimal performance, the brain-to-brain connection in leadership, and to how to enhance emotional intelligence itself.
Goleman's 2009 book Ecological Intelligence: How Knowing the Hidden Impacts of What We Buy Can Change Everything argues that new information technologies could create "radical transparency," allowing us to know the environmental, health, and social consequences of what we buy. As shoppers use point-of-purchase ecological comparisons to guide their purchases, market share would shift to support steady, incremental upgrades in how products are made – changing ever thing for the better.
Goleman's work as a science journalist has been recognized with many awards, including the Washburn Award for science journalism, a Lifetime Career Award from the American Psychological Association, and he was made a Fellow of the American Association for the Advancement of Science in recognition of his communicating science to the general public.
September 2017 new publication 'Altered Traits: Science Reveals How Meditation Changes Your Mind, Brain and Body'. This new book unveils the kind of cutting-edge research that has made Daniel and Richard Davidson giants in their fields. They show us the truth about what meditation can really do for us, as well as exactly how to get the most out of it.
Fee range:
Please Enquire