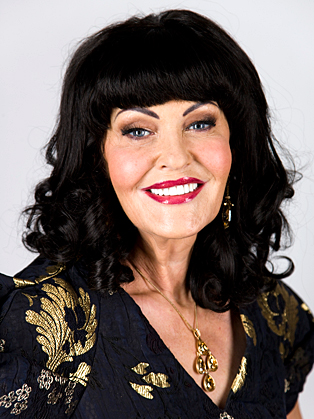 Best known for:
An internationally renowned business woman, as well as for her role as a 'dragon' on two series of the BBC 2 series, Dragon's Den.
Summary:
TV personality Hilary Devey has appeared in countless successful screen roles, broadcasting her knowledge and expertise in the realm of business. In 2008, Hilary appeared as a 'dragon' on the BBC 2 series Dragon's Den. Hilary has been sought by major corporations, including T-Mobile and Credit Suisse, as an inspirational and motivational speaker .
Biography:
Hilary Devey is a television personality, entrepreneur, commentator, and award-winning businesswoman who, by launching her successful company Pall-Ex, not only created a business network that now commands revenues of £100 million, but revolutionised the pallet distribution industry in the UK.

Hilary first came to our screens in Channel 4's Secret Millionaire in 2008. The nation fell in love with her and after appearing on The Business Inspector she joined the panel on BBC2's Dragon's Den. Hilary has now signed an exclusive deal with Channel 4 and her new series for them, Hilary's Dream Jobs is being broadcast in Spring 2013.

Hilary has been the recipient of a number of leading industry awards, including the 2007 Ernst & Young UK Entrepreneur Award and the NatWest Everywoman Award in 2008, as well as being voted the 'Vitalise Businesswoman of the Year' on two occasions (in 2004 and 2008). In 2009, Hilary made history as the first ever woman to be presented with the Chartered Institute of Logistics & Transport's most prestigious accolade, the 'Sir Robert Lawrence Award'. In 2010, Hilary Devey was made an honorary Doctor of Laws at the University of Leicester.

Hilary is sought as an inspiring motivational speaker by major corporate firms and networking organisations, recently addressing conferences and events staged by Credit Suisse, T-Mobile, and The Entrepreneurs Forum.

Hilary also campaigns tirelessly for various charities including The Stroke Association and The Carers Trust, for whom she became a patron in 2007. She launched the Penny-A-Pallet scheme, which sees a charitable contribution made for every Pall-Ex pallet processed. Hilary is also an ardent campaigner for the improvement of drug rehabilitation in the UK following her experiences with her son Mevlit, a recovering addict.

Hilary's autobiography Hilary Devey Bold as Brass: My Story was published by Macmillan in May 2012.
Fee range:
Please Enquire