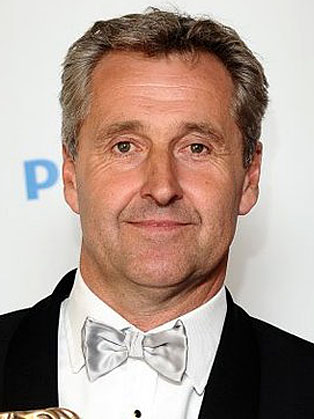 Best known for:
Mark Austin is a British journalist and television presenter, best known for being the chief newscaster for ITV News.
Summary:
Since joining ITN in 1986 Mark Austin has reported from around the world, first as a foreign correspondent, and more recently as an on-location presenter. Major events from recent years which he has covered include the Iraq War, the US Elections, the Asian Tsunami and Hurricane Katrina.
Biography:
Mark Austin started his media career at the Bournemouth Echo (Dorset, UK) in the late 1970s before joining the BBC as a writer in the newsroom in 1980. Promotion followed, becoming a news reporter and then a sports reporter over the next 5 years. It was in his role as a specialist Sports Correspondent that Mark joined ITN in October 1986. His first assignment was four months in Australia to cover the winter's Ashes tour and the America's Cup. As a sports reporter, Mark went on to cover many major events for ITV News and won the top prize in the Sports News category at the 1993 Royal Television Society awards for coverage of the British Olympic team drug scandal from the 1992 summer games in Barcelona.
Mark's first major event as a fully fledged foreign correspondent was the Gulf War when he was one of the first UK journalists to report from the region after the Iraqi invasion of Kuwait. During early 1991 he was in based Bahrain, the base for many of the Tornado squadrons, and filed many reports on the progress of the war effort.
In 1993 he was appointed as ITV News Asia Correspondent based in Hong Kong where he stayed for only a year before becoming Africa Correspondent (1994-95). His time in Johannesburg allowed him to report on several historic events including Nelson Mandela's election to the South African presidency and the genocide in Rwanda. His coverage of the crisis in Bosnia in 1995 won him and Paul Davies a joint Gold Medal at the 1996 Film & Television Festival of New York. In 1996, Mark returned to Hong Kong as Asia Correspondent, covering the handover of sovereignty to the Chinese, before returning to ITV headquarters in London in 1998.
Mark's reporting of the Kosovan war from the Albanian border was part of ITV News' coverage which received a Gold Nymph at the 1999 Television Festival of Monte Carlo. His reporting of the Mozambique floods in 2000 received an International Emmy award as well as a Gold Nymph at the 2000 Television Festival of Monte Carlo and Gold and Silver Medals at the New York Television Programming Awards.
Since taking on the role of a news presenter rather than a correspondent in recent years, Mark has often been called upon to report and anchor programs from on location – namely the United States, Afghanistan, Kuwait, Iraq, Spain, France, Thailand, Indonesia, Sri Lanka and around the British Isles during the 2005 General Election campaign.
Fee range:
Please Enquire