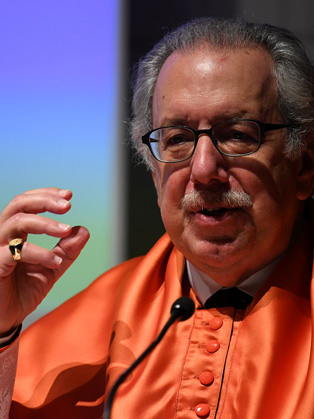 Best known for:
Author and professor Dr Richard Boyatzis is one of the world's leading experts in leadership development and emotional intelligence (EI).
Summary:
Using his well-established Intentional Change Theory (ICT) and complexity theory, Dr Richard Boyatzis, PhD, has continued to research how people and organizations engage in sustainable, desired change. The theory predicts how changes occur in different groups of human organizations, including team, community, country and global change. Ongoing research supporting this theory includes developing new and better measures of an individual's emotional, social and cognitive intelligence as well as studies that demonstrate the relationship between these abilities and performance.
Biography:
Dr Richard Boyatzis' research on human behavior has revolutionized management education and helped spawn a new industry of competency consultants, researchers, academics, and executive coaches. In 2014, HR magazine ranked him as one of the top 10 "Most Influential International Thinkers."
His latest book, Becoming a Resonant Leader (co-written with Annie McKee and Fran Johnston), the workbook companion to Resonant Leadership, draws from extensive multidisciplinary research and outlines concrete ways to create the resonance that fuels great leadership. According to Boyatzis, resonant leaders, by establishing deep emotional connections with others, bring out the best in their people and build resilient, adaptive organisations.
Boyatzis co-wrote the seminal text Primal Leadership: Learning to Lead with Emotional Intelligence with McKee and Dr. Daniel Goleman. The book unveiled scientific evidence that a leader's emotional competencies have an enormous impact an organization's bottom line. Primal Leadership has been translated into 28 languages.
Boyatzis is a Distinguished University Professor at Case Western Reserve University in Cleveland. He is also a Professor in the Departments of Organisational Behaviour, Psychology and Cognitive Science at Case Western and in Human Resources at ESADE in Barcelona. A frequent lecturer throughout Europe and the U.S., he has written over 150 articles on leadership, motivation, behavioural change, emotional intelligence, and managerial competencies. Over 500,000 students from 213 countries have enrolled in his online course, "Inspiring Leadership Through Emotional Intelligence," one of the 10 most popular online courses of 2014.
Former President and CEO of McBer & Company, he holds his B.S. in Aeronautics and Astronautics from MIT and Ph.D. in Social Psychology from Harvard. He has consulted to Fortune 500 companies, educational and health organizations, government agencies, and companies around the world on leadership and team development, competency assessment, organizational change, and performance appraisal.
His Intentional Change Theory (ICT) and complexity theory predicts how changes occur in organizations. He describes ICT as an exploration of "how and why people change. It is a way of thinking about your talent, who you are, and what you want to do with it. My hope is that we can rediscover the power of the human spirit."
A frequent guest lecturer at management schools throughout Europe and the U.S., he has written over 150 articles on leadership, motivation, behavioral change, emotional intelligence, and managerial competencies. His latest research studies are analyses of the neuroscience of effective leadership and coaching.
Speaking Topics:
Resonant Leadership and Emotional Intelligence: Inspiring us to be our Best
Focus: The Key to Maximum Engagement, Innovation and Peak Performance

Open Class: Using Emotion and Relationships to Enhance Learning Through Moocs

Why Every Leader Should Coach Others: The Path to Leadership Development and Personal Renewal
Fee range:
Please Enquire
Testimonials:
He proved that emotional intelligence makes all the difference in the workplace.
Bank of Montreal
We felt truly proud to be fortunate to bring you for a talk to a very diverse group of people. I would without second thought rate this the best talk I have heard.
Forum for Emotional Intelligence Learning