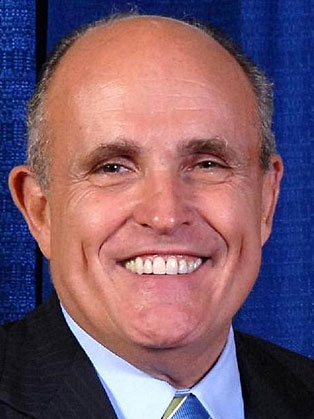 Best known for:
Rudy Giuliani was the 107th Mayor of New York City from 1994-2001.
Summary:
Rudy Giuliani is an American lawyer, businessman, former politician and public speaker from New York City.
Biography:
Politically a Democrat and then an Independent in the 1970s, but a Republican since the 1980s, Giuliani was the federal attorney for New York state's southern region in the 1980s who prosecuted pivotal cases against the Italian Mafia and against corrupt corporate financers. Giuliani reputedly tames organized crime – most famously leading the case that sent the "Teflon Don" to prison for life. That accomplishment won Giuliani a reputation for being tough on crime and helped him launch his career in politics.
As mayor of New York, Giuliani was widely credited for major improvements in the city's quality of life and rates of violent crimes. Giuliani gained international fame as New York City's leader in the immediate aftermath of the 9/11 attacks in 2001. Giuliani was names Time magazine's Person of the Year for 2001 and was given a honorary knighthood in 2002 by Queen Elizabeth II.
Fee range:
Please Enquire