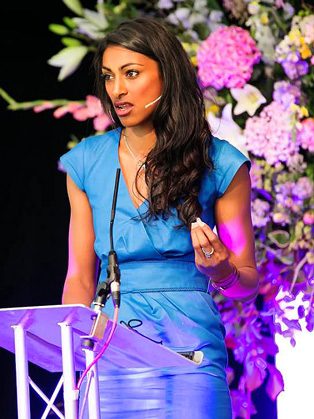 Best known for:
Shini is known for adventuring around the world, reporting on cutting-edge engineering, innovation and technology.
Summary:
Engineers are passionate about finding solutions and Dr. Shini Somara is no exception. She qualified as a Mechanical Engineer and Fluid Dynamicist at a very young age, but her thirst for knowledge and curiosity for human advancement sent her traveling around the globe discovering cutting-edge science, technology and innovation. Shini translates what she finds into inspiring and engaging television for all ages, and is a spirited advocate for the fascinating work being done to push the boundaries of human scientific progress.
Biography:
Shini Somara transforms cutting-edge science into engaging, warm-hearted TV. Shini is now based in London and her most recent work can be seen on the BBC. Before that, Shini spent a few years in Los Angeles, hosting TechKnow for Al Jazeera America.
Shini has always loved uncovering pioneering technology and innovation, which can be seen on a variety of other networks including BBC World News, BBC America, Sky and Discovery and National Geographic and PBS Digital Studios.
Shini began her career as a mechanical engineer at Brunel University (London), studying for a Bachelors of Engineering (BEngHons), she then went on to complete an Engineering Doctorate (EngD) by the age of 24 years old. Shini specialised in Fluid Dynamics, where she used computer simulation to 'visualise the invisible'. This expertise enabled Shini to advise engineers on airflow over aircraft wings, Formula1 cars and within high-rise buildings.
Shini's fascination for innovation is insatiable and diverse. She has discovered and reported on technology in many areas including food, climate change, health and renewable energy. Shini is most passionate about education for all and passing on what she learns to others (Crash Course: Physics, PBS Digital Studios). Having grown up surrounded by scientists, Shini believes it's her purpose to inspire others into science, technology, engineering and maths (STEM). Through following her own inner compass, Shini hopes she can enthuse people of all ages, particularly young women, to realise their own inner talents, passions, interests.
Fee range:
Please Enquire