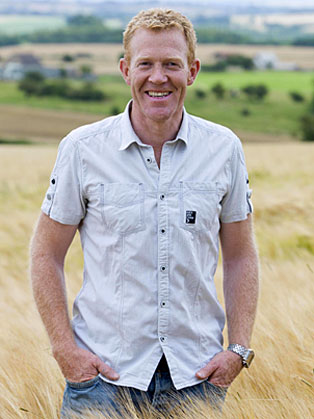 Best known for:
Adam Henson is an English Farmer and Television Presenter.
Summary:
Adam Henson is perhaps the best-known farmer in the UK, presenting his own section on BBC's Countryfile to millions of viewers each Sunday evening.
Biography:
Born on the farm he now works on, Henson did some work at the Chatsworth Estate, and gained an HND in Agriculture at Seale-Hayne Agricultural College in Newton Abbot, Devon, where he met his business partner and friend Duncan Andrews. After graduation, the pair travelled for over a year through Australia working on sheep and arable stations, then a kiwi plantation in New Zealand.
Adam Henson now runs the Cotswold Farm Park which his father started, Adam and Duncan Andrews took on the lease of Bemborough Farm from his father, and the pair now jointly run the 650 hectare estate, growing wheat, spring barley and oilseed rape, alongside a flock of 350 commercial ewes.
Henson's television career started in 2001 when he was successful in gaining a presenting position on the BBC's Countryfile programme. Since this time he has worked on programmes such as Countryfile Summer Diaries and Inside Out. Due to his extensive farming knowledge, he has also worked on BBC Radio 4's On Your Farm and Farming Today.
In November 2013 he starred alongside Nigel Slater on Nigel and Adam's Farm Kitchen' Adam the farmer and Nigel Slater (the chef) join forces to sow, grow rear and cook Britain's favourite foods, from a working farm in the Cotswolds, as they try to get people back in touch with where our food comes from.
In 2015 Adam presented a series of BBC1's Secret Britain with Ellie Harrison and has also presented Countryfile Summer Diaries, Big Wildlife Revival, BBC2's Coast and Inside Out. Adam has a column in Countryfile magazine, as their resident farmer, as well as the Cotswold Life magazine.
Publications:
Adam's Farm (2012)
Countryfile- Adam's Farm: My Life on the Land (2011)
Like Farmer, Like Son (2016)
A Farmer and His Dog (2017)
Fee range:
Please Enquire