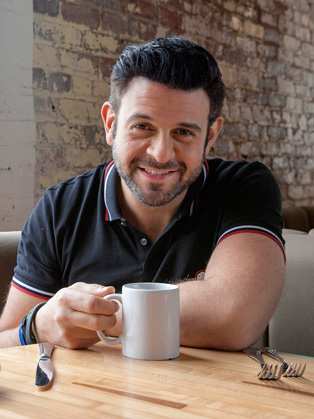 Best known for:
Self-educated food expert, Adam is known as being the host of the hit food travel show 'Man Vs. Food'.
Summary:
Adam Richman grew up in the food Mecca of New York City and began his love affair with food early on, sampling all of the diverse culinary specialties The Big Apple had to offer. From samosas to sushi, even at a young age, Adam had a desire to taste it all. A self-educated food expert and trained sushi chef, since 1995 he has kept a travel journal including each of the restaurants he visited and what he learned from the trip. Adam has subsequently worked in nearly every echelon of the restaurant world coast-to-coast. The nature of his work allowed him to feed his appetite for discovering the best local dishes across America, all of which found their way into his ever-expanding food journal. Although described as a bit on the husky side, to maintain his health while indulging for his show on The Travel Channel's Man v. Food (which he began hosting in 2008), Richman exercises twice a day while he is on the road.
Biography:
Adam Richman, TV personality, culinary traveler, cook and author, was born and raised in Brooklyn, New York. With the diverse culinary mecca of New York City at his fingertips, Adam's love affair with and intense interest in food and food culture developed at an early age. Though originally he was most widely known as the host of Travel Channel's "Man V. Food," Adam's résumé has since expanded to include host and co-executive producer of five titles across Travel Channel ("Man V. Food Nation," "Adam Richman's Best Sandwich in America," "Fandemonium," "Carnivore Chronicles" and "Secret Eats") and host of NBC's "Food Fighters."
In addition to being a frequent contributor to NBC's "The TODAY Show," he is also the author of two books (America the Edible, Straight Up Tasty), and his production company, County of Kings, co-created and co-executive produced "BBQ Champ," a wildly popular competition series, for ITV in the UK. A Yale graduate, Adam speaks four languages and has traveled the globe - visiting 13 countries alone for season two of "Secret Eats with Adam Richman" - on his quest to highlight local food culture on a national stage and uncover the world's hidden edible treasures.
Around the Corner and Across the World
Long before discovering his thirst for travel, Adam had access to authentic delicacies from around the globe, all within the borders of his diverse Brooklyn neighborhood. However, it was cooking a plain cheese omelet with his Aunt Anne that became a defining moment of his early years. Watching simple ingredients such as eggs and American cheese magically transform from basic staples into a versatile composed dish was revelatory for a young Adam and ignited his fascination with the culinary world.
Travel Channel and Beyond
Building his TV résumé, subsequently Adam assumed hosting and co-executive producing duties on "Man V. Food Nation," "Adam Richman's Best Sandwich in America," "Fandemonium," "Man Finds Food," (2015) and "Secret Eats with Adam Richman,"(2016) on Travel Channel.
In 2014, Adam hosted NBC's successful food competition show "Food Fighters," which aired for two seasons. Under his production company banner, County of Kings, and in conjunction with Whizz Kidd Entertainment, he co-created and co-executive produced "BBQ Champ" for ITV in the UK in 2015. It has since aired across New Zealand, Asia, Italy and Canada, and as a localized adaptation in Brazil.
Screen, Page and Stage
Adam's first book, America the Edible (Rodale Publishing, 2010), offered a behind-the-scenes look at his adventures traveling – and eating, of course - across the US. In 2015, inspired by the many great cuisines sampled during his travels, Adam penned his first cookbook, Straight Up Tasty (Clarkson Potter), featuring his signature take on globally-inspired comfort food. Always restlessly creative, Adam has drawn upon his fine arts roots to act in numerous theater productions in New York City, and has appeared on a wide range of TV shows. In 2016, he co- produced the New York and London runs of the play, Stalking the Bogeyman.
A die-hard supporter of the Tottenham Hotspur Football Club and ardent fan of the New York Yankees and Miami Dolphins, Adam currently resides in Brooklyn, New York, and is an avid collector of sneakers, ties, magnets and artisanal coffee
Fee range:
20,000-50,000 GBP