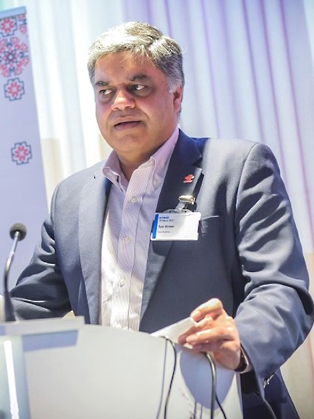 Best known for:
Ajaz Ahmed is successful in business and is best known for being the founder of 'Freeserve' which revolutionised the internet in the UK.
Summary:
Ajaz Ahmed is the "Chief Provocateur" at "CUT THE CR*P", a provocateur is a person who deliberately behaves controversially in order to provoke argument or other strong reactions. He also gives talks, interviews and sits on business panels at events all over the world.
Biography:
It started when Ajaz got fed up of listening to so-called 'experts & gurus' talking, Cr*p! Gurus who don't get to the point and don't leave the audience with any wisdom. So, he came up with a unique format, a format that focuses on valuable lessons and not the personality with a bit of humour thrown in.
People remember the lessons from 'Cut the Cr*p' talks for many years later. Ajaz is the Chief Provocateur at 'Cut the Cr*p' and people often ask why it's called 'Cut the Cr*p?' Simple, because they remember the name and they immediately know what the brand stands for.
Ajaz is the founder of Freeserve, which was once the UK's largest Internet Company. Freeserve became the UK's largest internet company three months after its launch and was sold to France Telecom three years later after the launch for £1.65bn.
He is an experienced business speaker, and he writes a column for a national business magazine. He has been an Exec Officer, Non-Exec and Chairman of FTSE100 & AIM companies. The Queen has awarded him a British Empire Medal, BEM.
Topic Area
Business
Motivation
Internet
Marketing
Fee range:
Please Enquire