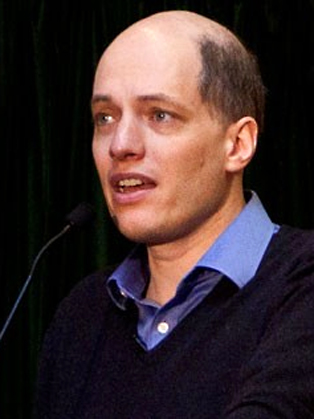 Best known for:
"Forcing people to eat together is an effective way to promote tolerance." Alain is known as the peoples' philosopher and best known for his aim to bring philosophy to the masses in a non-threatening or intimidating manner. Also a best-selling author.
Summary:
Described as the "peoples' philosopher", Alain has written a panoply of successful books, ranging in topics from love, architecture, travel, literature, and religion. His books have gone on to be best-sellers in 30 different countries. When Alain is not writing, he can be found at 'the School of Life', a book store and workshop dedicated to a new vision of education, which aims to expand on his mantra that our purpose can be found in seeking answers to intellectual questions.
Biography:
Alain de Botton has taken the erudite discipline of philosophy and consistently applied it to everyday questions at the heart of our society – how do we co-exist with other people? How do we deal with our anxieties? How do we live well? His discussions on topics like love and pornography have led people to call him a popular philosopher – a label which he does not reject.

Born in Zurich, Switzerland in 1969 he attended the Dragon School in Oxford and then Harrow before studying history at Cambridge where he was awarded a double first. He has an MA in Philosophy from the University of London and began studying for a PhD but abandoned this to write books.

After writing several novels he began to develop his unique style of popular philosophy with How Proust Can Change Your Life (1997) His analysis of the famous Proust work Remembrance of Things Past took the form, somewhat ironically, of a self-help book and proved to be a bestseller in both the UK and the USA. This was followed by The Consolations of Philosophy (2000), The Art of Travel (2002) and Status Anxiety (2004) which explored the ideas of success, failure and what others think of us – all building on his unique ability to demand serious answers from mundane questions. In 2006 he published the Architecture of Happiness which led to the establishment of Living Architecture a movement which encourages architects to create buildings which can be rented by the public – giving ordinary people the chance to experience the transforming effects of really good design first hand.

In 2009 the spotlight was turned on the world of work with The Pleasures and Sorrow of Work in which de Botton looked at what people get up to by day and night in the varied worlds of biscuit manufacture and rocket science to name but two.

Later in 2009 he swapped his writing desk for a seat in Terminal 5 where he became Heathrow airport's first ever writer-in-residence – resulting in A Week at the Airport.

In between books de Botton helped to found The School of Life, a bookshop and salon in London which seeks to expand on his idea that we should seek intellectual answers to everyday questions and use them to lead good and useful lives.

Religion for Atheists - his most recent work - was published in January 2012 and argues that while the supernatural claims of religion are most certainly false, it still has some important messages for the secular world.

Despite his gentle wit and unfailingly polite demeanour de Botton is no stranger to controversy and has announced that he wants to start a website called Better Porn.
October 2013 saw the arrival of the book Art as Therapy, co-written with the art historian John Armstrong. Their proposal is that certain great works of art offer clues on managing the tensions and confusions of everyday life and that, approached in the right way, art can help us answer both the intimate and the everyday questions we all ask ourselves.
Turning his attention to the news, in January 2014 Alain published a book called The News: A User's Manual. It urged us to think differently about the media and to recognise the ways in which our attention spans and mentalities are manipulated.
The Course of Love, published in 2016, is the long-awaited sequel to Alain's first book Essays in Love, marks a delightful return to the novel and is a meditation on modern relationships.
Alain is considering engagements in 2020.
Fee range:
10,000-20,000 GBP