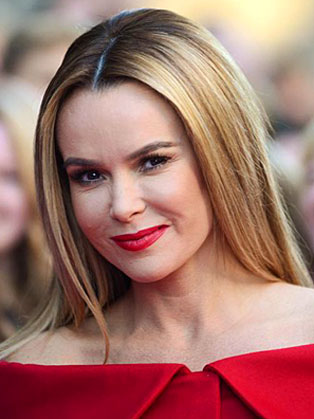 Best known for:
Amanda Holden is an English actress, singer and presenter, best known as a judge on ITV's Britain's Got Talent since the show began in 2007.
Summary:
Amanda Holden played the role of Sarah Trevanion in Wild at Heart (2006-2008) and the title role in Thoroughly Modern Millie, for which she was nominated for Laurence Olivier Theatre Award. More recently she has presented various television shows for ITV including Superstar (2012), This Morning (2014-2015) and Give a Pet a Home (2015.
Biography:
Amanda's earliest presenting was in 1998 where she presented reports for Wish You Were Here (full ITV network). Other early presenting credits include When Britain First Had Talent, Really Wild At Heart, Greasemania and the National Music Awards (ITV1).
In 2009 she presented ITV1's Celebrating the Carpenters (alongside Ronan Keating) and she has presented the prestigious awards ceremony A Night of Heroes every year since 2009 alongside Phillip Schofield for ITV1. Amanda appeared in a documentary Out of My Depth for ITV1, which also transmitted in 2009, where she trained as a midwife and helped deliver 5 babies.
In 2010 she presented The Children's Champions Awards for Sky One (alongside Chris Evans). She regularly reports for CBS The Early Show in New York doing showbiz news and events and has been their UK Correspondent since June 2009.
In addition to this Amanda starred in a three part series for ITV1 called Amanda's Fantasy Lives where she performed as a Country singer, danced as a showgirl at the famous Paris Lido, and became a stunt women. This meant carrying out real stunts including crashing a police car into warehouse and jumping off a 60ft building. Amanda also presented ITV1's The Door alongside Chris Tarrant.
The summer of 2012 she hosted the huge new talent show for ITV Jesus Christ Superstar in a battle to find the role of Jesus to star in an Arena Tour of Rock Musical Jesus Christ Superstar.
In early 2014 Amanda reported for 'Dispatches - Exposting Hospital Heartache', where she exposed some hospitals' upsetting policies with regards to miscarragies and stillbirths. In response to Amanda's report - the Department of Health immediately banned hospitals from carrying out these practices.
Amanda is the longest standing Judge on Britains Got Talent having been there from day one, a total of 9 years on the show, and now confirmed for the 10th year. During this time the show has pulled in audiences in excess of 20 million viewers and series four resulted in the finding of the worldwide phenomenon Susan Boyle. Other judges have included Simon Cowell, Alesha Dixon, David Walliams, Michael Mcintyre and David Hasslehoff.
September 2014 – June 2015 saw Amanda join Philip Schofield in presenting Live on ITV's daily show - This Morning. And in early 2015 Amanda also hosted the first series of ITV's Give a Pet a Home where RSPCA animals were found new homes with viewers each week.
Fee range:
Please Enquire