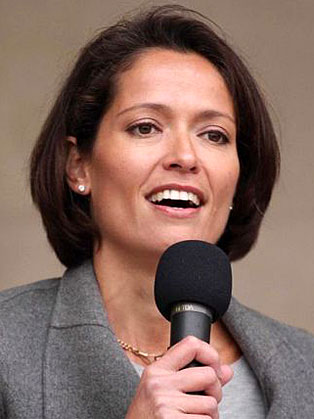 Best known for:
Amanda Stretton is best known for being a female motorsport and motor industry presenter.
Summary:
Amanda Stretton is the UK's leading female motorsport and motor industry presenter. She is renowned for her knowledge of contemporary and historical racing series and her understanding of the international car industry.
Biography:
Amanda's unique combination of beauty and brains has made her a TV natural. She originally caught the attention of producers of Channel 4′s F3 on 4 as a young driver, having just won Classic and Sportscar Magazines 'Best Newcomer of the Year' Award, and went on to present all Channel 4′s Motorsport programming.
Since then her encyclopaedic knowledge of motors and motorsport coupled with her skill behind the wheel have made her a compelling and credible commentator on all things automotive. As an accomplished and enthusiastic presenter, she's able to understand and present sophisticated motoring topics to viewers in an accessible and exciting manner.
Her expertise comes from racing and winning on the world stage. Challenging men at their own game, Amanda's outstanding driving skills have seen her win races in top level racing classes including the FIA GT Championship, the only British woman to have achieved this; and racing in the top LMP1 class against a record entry of ex-F1 drivers in the World famous Le Mans 24 hour race.
Amanda's CV includes a string of high-profile motoring programmes for ITV1 and 4, Channel 4 and Channel 5, Sky, Eurosport and Fox in the USA. She's a witty speaker at live events, a working journalist and has even found time to do a spot of fashion modelling; juggling her busy career with being a mother of two.
Her effortless class, understanding of the car industry, and ability to convey technical and mechanical innovations has also seen her present TV and digital content for many leading car manufacturers.
Amanda regularly fronted C4s coverage of the British Formula 3 and GT championships, while she also presented motorsport programmes on Sky and Eurosport. Amanda presented Channel 5's ambitious and popular Dream Machine series in which classic cars were restored. Her knowledge of race and road cars has now resulted in her becoming the lead presenter for the hugely popular 'Goodwood Revival' and 'Goodwood Festival of Speed for ITV.
Fee range:
Please Enquire