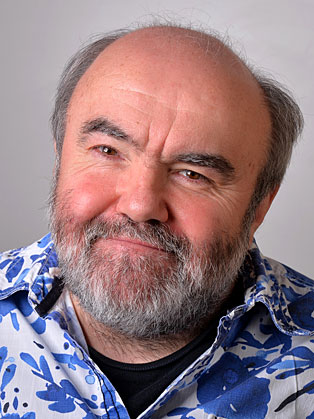 Best known for:
Andy Hamilton is a British comedian, game show panellist, television director, comedy screenwriter, and radio dramatist.
Summary:
Andy Hamilton is an award winning comedy writer and stand up comedian, perhaps best known for co-creating and writing Outnumbered, who has recently been working on satirical television shows such as Ballot Monkeys and the comedy film What We Did On Our Holiday with fellow writer Guy Jenkin. Now he is back on the road with a new stand up show: Change Management.
Biography:
Starting out with The Two Ronnies, Smith and Jones and Not The Nine O'Clock News, Andy went on to create Drop The Dead Donkey. With co-creator Guy Jenkin, he wrote sixty episodes and the series won a BAFTA, two Emmys and three Writers Guild Awards.
As a vastly talented and experienced comedy scriptwriter, Andy is also a familiar face to television audiences through his regular appearances on Have I Got News For You and QI.
Amongst Andy's many other writing credits are Underworld and Bedtime. Eleven Men Against Eleven, a one-off comedy about football, won the Royal Television Society Award for Best Single Drama. Andy also co-wrote, directed and produced Outnumbered, BBC's groundbreaking sitcom starring Hugh Dennis and Claire Skinner.
On radio, he is a regular contributor to Radio 4's News Quiz and an occasional panellist on I'm Sorry I Haven't A Clue. He also wrote and performed (as Satan) Old Harry's Game, for which he won a Sony Award. He is both writer and director of Trevor's World Of Sport.
Fee range:
Please Enquire