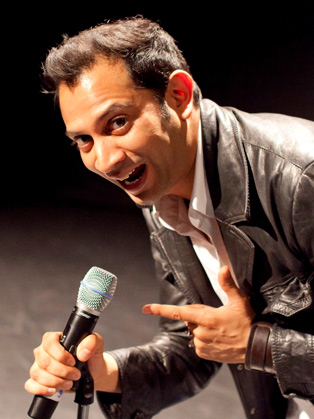 Best known for:
Anil Desai is a stand-up comedian and impressionist.
Summary:
Since performing his awe-inspiring and record-breaking '52 impressions in 5 minutes' routine in 2009, Anil Desai has spent his time performing across the UK (Opening and Headlining for numerous promoters, clubs and shows (incl: CKP, Spiky Mike, Mirth Control, The Comedy Club, Comedy Cafe, Soho Comedy Club, Spank!, Covent Garden Comedy and many many more) and around the world, becoming one of the best impressionist comedians to emerge from the UK performing on the international circuit.
Biography:
Anil Desai has been invited onto many of the world's best comedy and entertainment stages including The Comedy Store, Late & Live, The Udderbelly, The Wellington Opera House, Her Majesty's Theatre, London, as well as comedy festivals around the world, such as at Edinburgh, Melbourne, Sydney, New Zealand and Ireland, where he has performed several solo shows.
Along the way, he has been on numerous international comedy tours, working with many veteran and 'up 'n coming' comedians in over 20 countries worldwide incl. Slovenia, South Africa, India, Singapore, Malaysia, Indonesia, Australia, New Zealand, the South Pacific, the Netherlands, Ibiza, Montenegro, Dubai, Lebanon, Germany and Ireland.
He's also appeared at some of the UK's biggest summer festivals including Latitude, Bestival, Splendour Fest, Chilli Fest and the Electric Picnic in recent years.
Desai's unique brand of feel good, energetic, stand-up comedy is based on his real-life stories, experiences and observations - at times dry, occasionally sarcastic, but with genuine honesty and an optimistic wisdom, from his love of movies, and film-stars to his everyday life, global travels, relationships and the ever-changing state of the world and it's cultures.
His sets are fused with a who's who of amazing impressions, international accents and every day characters as he twists, turns and transforms himself into our favourite movie stars & celebrities with dynamic speed and lovable charm, often losing himself in the mix whilst creating hilariously entertaining results and being one of the most adaptable comics in the industry.
He won the audience vote for best comedian at the 2010 Asian Comedy Slam for doing more than just 'Indian' comedy. He has made guest appearances on Chortle's Fast Fringe showcase, The Hour (STV), Hey, Hey, it's Saturday! (Channel 9, AUS), The Unknown Movie show (Ch31 Aus), Good Morning, 4Live and Asia Down Under (TVNZ), The Kerner Show (German TV), Ali Mcgregor's Cabaret Kitsch (BBC Radio 4) Humour TV (Netherlands), The Slammer Returns (CBBC) and BBC Asian Networks Big Comedy Night.
Fee range:
Please Enquire
Testimonials:
A possessed schizophrenic tour-de-force...more than an impressionist, combining typical observational stand up with voices making him a force to be reckoned with. Catch him before you're too far back in the arena to see him.
EdFest
Highly entertaining stuff from an accomplished act…must be seen to be believed.
Herald Sun