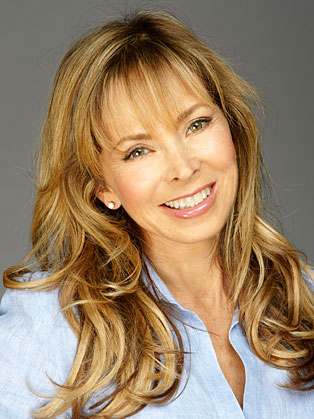 Best known for:
Annabel Karmel is the author of books on nutrition and cooking for babies, children and families.
Summary:
Annabel Karmel is a modern day "mumpreneur" juggling life as a busy working mother of three with a hugely successful career.
Biography:
Since launching with the Complete Baby and Toddler Meal Planner more than 20 years ago, Annabel Karmel MBE has written 40 books, which have sold over four million copies worldwide, covering every stage of a child's development.
With more than 20 years' experience under her apron, Annabel has become the UK's number one parenting author, best-selling international author and expert on devising delicious, nutritious meals for babies and children.
From nutrition during pregnancy and weaning, through to feeding fussy eaters and family cooking, Annabel Karmel MBE has long been a leading authority on children's food and nutrition.
Credited with revolutionising the way babies and children eat, Annabel's tried and tested recipes have also grown into a successful supermarket food range. From delicious Organic Baby Purees and sauces to her best-selling chilled toddler meals and award-winning Fuss Pots, she offers quick, homemade style solutions for those busy days.
And that's not all. Her smartphone app, Essential Guide to Feeding Your Baby & Toddler, is also a favourite with families across the world, and she has also designed a special range of weaning equipment with NUK.
Passionate about improving the way children eat, Annabel has menus in some of the largest leisure resorts, retail outlets and nurseries in the UK, serving up more than one million children's meals each year. Giving little ones the chance to enjoy tasty, well-balanced meals whilst out and about, you'll see Annabel's meals everywhere from Butlins to BHS, Legoland to Asquith Nurseries.
Annabel has also created a fun, wholesome snack range with Disney – from delicious apple and banana fruit crisps to tasty rice and corn snacks. A perfect way for tots to get their 5-a-day.
Annabel was awarded an MBE in June 2006 in the Queen's Birthday Honours for her outstanding work in the field of child nutrition. In 2009 Annabel won a prestigious Caterer & Hotelkeeper Excellence in Food Award for her children's meals as well as Mother and Baby magazine's Lifetime Achievement Award. In 2010 Annabel won the media category of the First Women Awards, which recognise women at the top of their professions who are leading the way for the next generation.
Annabel is a regular commentator within the media on health and food issues. She frequently writes for parenting magazines and national newspapers, and appears on TV and radio.
Much of her time is spent working with charities, organisations and initiatives which focus on the welfare of babies and children. She also enjoys helping and inspiring upcoming entrepreneurs who want to succeed in business.
Fee range:
Please Enquire