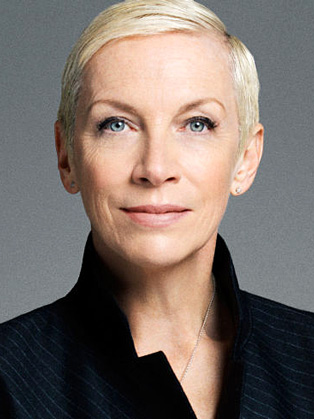 Best known for:
Annie Lennox OBE is a Scottish singer, songwriter, political activist and philanthropist
Summary:
One of the finest and most outstanding musical voices of our time, singer, songwriter, campaigner and activist, Annie Lennox OBE is celebrated as an innovator, an icon, and a symbol of enduring excellence. Annie's music career is peerless with over 80 million record sales to date and winning countless awards, while her tireless charity work is widely praised receiving prestigious awards and honours.
Biography:
In 1971, at the age of 17, Lennox left her native Scotland after gaining a place at the Royal Academy of Music in London.
From a fortuitous chance encounter with Dave Stewart in the early seventies, the pair went on to form The Tourists, who ultimately achieved significant success in the UK, Europe and Australia.
It was not until the break up of the band in '79 however, that Annie and Dave decided to form a duo, calling themselves "Eurythmics".
They released their first album, "In the Garden" in 1981, but it was not until the worldwide success of their second album, (Sweet Dreams Are Made Of This) in 1983, that Eurythmics became the musical phenomenon we know today.
Eurythmics went on to sell over 75 million albums, and achieved over 20 international hits across the world.
In 1990, Annie released her debut solo album entitled "Diva". Entering the charts at number 1 in the UK, the album sold around six million copies world wide, (including two and a half million in the USA). "Diva" included the Top 10 singles "Why", "Walking On Broken Glass" and "Little Bird".
In 1995, her second album was released, entitled "Medusa". An album of lovingly crafted reinterpretations of some of Lennox's favourite songs. It also debuted at number one, and included the massive single "No More "I Love You's"". Medusa sold around 5 million copies.
Annie released her third solo album "Bare" to much critical acclaim in June 2003, which went on to sell approximately two million copies worldwide.
In October 2007 Annie released her much-anticipated album, "Songs Of Mass Destruction" to critical acclaim. The album featured "SING" a new song featuring 23 or the world's most acclaimed female superstars, invited by Annie to appear on the record to help draw attention to the HIV AIDS pandemic, especially focusing on the country of South Africa, where women and children are worst affected.
"After personally witnessing Nelson Mandela describing the African HIV AIDS pandemic as a genocide, with women and children being the frontline victims, I set out to try and do something." – Annie Lennox.
Annie Lennox was first invited to Cape Town in 2003, to take part in the inaugural concert of Nelson Mandela's 46664 HIV campaign. It was there that she personally witnessed the plight of people struggling to cope with the situation – in clinics, orphanages, hospitals and townships.
Now approaching it's 4th anniversary, the SING campaign continues to raise funds and awareness in order to contribute to support and change. The money raised through SING helps prevent the spread of HIV in South Africa in different ways, most importantly through treatment literacy programs at a direct grass roots level. SING has already reached out to thousands of people.
In addition to the ongoing SING campaign, Annie is an Ambassador for UNAIDS, Oxfam, Nelson Mandela's 46664 Campaign, Amnesty International, The British Red Cross, London as well as supporting numerous other organisations.
In September 2008 Annie Lennox hosted the launch of the Amnesty Arts Fund. The Amnesty Arts Fund brings together people who believe passionately in freedom of expression and projects that inspire creative activism around the world.
Also in 2008 Annie was presented with the Award of Merit at the 2008 American Music Awards, broadcast live from the Nokia Theatre in L.A. Previous honourees include Prince, Whitney Houston and Frank Sinatra, that same year Annie released her first ever-solo retrospective album called "The Annie Lennox Collection". The 14-song collection brings together Lennox's finest work from her four top-selling solo albums – Diva (1992), Medusa (1995), Bare (2003) and Songs of Mass Destruction (2007)
In 2009 Annie joined David Gray for the duet Full Steam, featured on his latest album – Draw the Line. Annie also joined Aretha Franklin in New York for a special one off performance, in celebration of the Rock and Roll Hall of Fames 25th anniversary.
In 2010, Annie Lennox announced a new record deal with Universal Music Group, signalling the end of her 30-year relationship with the RCA Label. Annie also announced that her first album as part of this new exciting deal, "A Christmas Cornucopia", would be released on Island Records in the UK and Decca in the US. The new album featured Annie's versions of traditional festive songs along with a new track, 'Universal Child'. Annie donated her publishing royalties for the new track to The Annie Lennox Foundation, and the album was certified Gold in the UK.
In January 2011, Annie Lennox received an OBE in the New Years Honours list. This great accolade was given for all her hard work and dedication as a humanitarian. Annie was absolutely thrilled to have been given such a prestigious award.
Fee range:
Please Enquire