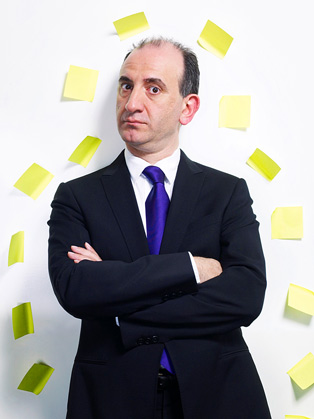 Best known for:
Armando Iannucci is a writer and producer, best known for his work on Alan Partridge, In the Loop and Veep.
Summary:
Armando Iannucci is an Oscar and Emmy-nominated British satirist, writer, television director and radio producer of Italian descent.
Biography:
Armando Iannucci was born in Glasgow and studied at Oxford University. He left graduate work on a PhD about John Milton to pursue a career in comedy.
Rising quickly through BBC Scotland and Radio 4, his early work with Chris Morris on the radio series On the Hour was transferred to television as The Day Today. A character from this series, Alan Partridge, went on to feature in a number of Iannucci's television and radio programmes including Knowing Me, Knowing You and I'm Alan Partridge. In the meantime, Iannucci also fronted the satirical Armistice review shows and in 2001 created his most personal work, The Armando Iannucci Shows, for Channel 4.
Moving back to the BBC in 2005, Iannucci created the political sitcom The Thick of It as well as the spoof documentary Time Trumpet in 2006. Winning funding from the UK Film Council, he directed a critically acclaimed feature film In the Loop featuring characters from The Thick of It in 2009.
Other works during this period include an operetta libretto, Skin Deep, and his radio series Charm Offensive.
Iannucci's latest television project is the HBO political satire Veep. In March 2012 it was announced that he is working on his first novel, Tongue International, described as 'a satirical fantasy about a privatised language'.
Fee range:
Please Enquire