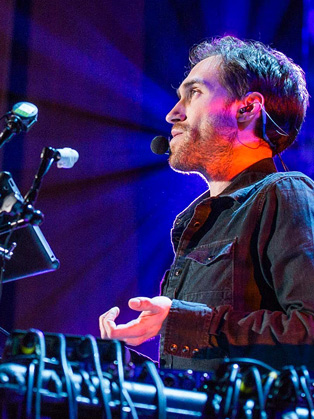 Best known for:
Darren Foreman, better known as Beardyman is the human beatbox is best known for his ingenious live looping technology beatboxing with hip-hop, funk and soul based vocal gymnastics.
Summary:
Beardyman has an outstanding talent for producing the sounds and rhythms of entire musical tracks using only his mouth and a mic. He's an award winning beatboxer that raises the roof with his sets.
Biography:
Beardyman is an award-winning beatboxing champion who combines humour with his musical performances. Live, he appears on stage in the guise of a serious speaker who starts with a speech which looks set to bore the audience, then launches into a set of hip-hop, funk, and soul inspired vocal gymnastics.
At the age of ten he wrote a symphony, which sparked his obsession with music technology and dance music. In an eclectic career he's appeared live with Groove Armada, Chaz and Dave, Blondie, Bill Bailey, and the Beastie Boys. In addition to his straightforward beat boxing, Beardyman also uses a selection of digital effects and a sampler to create multi-layered tracks live and is considered as a pioneer in live looping.
His talent has been seen and heard on outlets as diverse as BBC1's 'When Will I Be Famous', The John Bishop Show, Comedy Proms from the Royal Albert Hall, MTV, Lily Allen and Friends, Radio 1 and Radio 3 along with a multitude of live performances all over the world. Beardyman has also provided sounds and speech for TV ads for PlayStation and Sky Tv. He also wrote and presented the Radio 4 programme "Beardyman and the Mimics", in which he explored the natural world's inclination to copy the sounds around it.
Beardyman started out as an internet phenomenon, he has also inspired a small group called Barbists, who consider his words to be religious teachings. Rapidly becoming an international star, Beardyman has also recorded an album, developed a bespoke piece of musical equipment, the Beardytron 5000 and delivered a TED speech at the TED global conference in California.
The alternative sounds of Beardyman make him the ideal candidate for corporate event entertainment or at private parties. Guaranteed to give your guests the WOW factor, Beardyman's experimental sounds and captivating performance style will ensure your event, conference or party is one to remember.
Fee range:
5,000-10,000 GBP
Testimonials:
Beardyman was great. He turned up right on time, rehearsed and literally just ran with the show, creating a brilliant atmosphere. The audience identified with him straight away and loved the energy he delivered. He read the audience really well and managed to get them really buzzing.
Grass Roots Group
Having been slightly concerned Beardyman might be lost on our middle aged, male audience, he caused quite a sensation. One sponsor summed it up best as "undoubtedly though, my highlight of the evening was Beardyman. When I told my kids, they were beside themselves!"
IBM