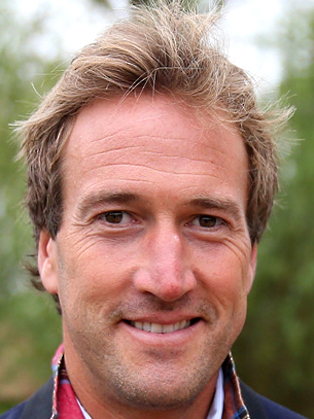 Best known for:
Broadcaster, traveller and adventurer Ben Fogle is best known for his presenting roles with Channel 5, BBC and ITV.
Summary:
Ben Fogle has rowed the Atlantic Ocean, crossed Antarctica on foot, run across the Sahara and crossed the Empty Quarter on camel. He has presented numerous hit programmes on the BBC, ITV and Channel 5 including, New Lives in the Wild, Extreme Dreams, Countrywise, Harbour Lives, Through Hell and High Water and Crufts. He writes regularly for the Sunday Telegraph and has written six Sunday Times bestseller books. He is an ambassador for WWF, Medecins Sans Frontier and Tusk, Centrepoint and the Princes Trust, a fellow of the Royal Geographical Society and patron of The Royal Parks Foundation. Ben is a special correspondent for NBC News in the United States, reporting from all over the world for Today, Dateline and MSNBC Nightly News.
Biography:
Ben Fogle was born in 1973, the son of actress Julia Foster and broadcast vet Bruce Fogle. Educated at Bryanston School in Dorset, Ben went on to study Latin American Studies at the University of Costa Rica and University of Portsmouth, where Ben enrolled as an Officer in the Royal Naval Reserve, as a Midshipman.
Ben spent several years in Latin America, working on a turtle conservation project on the Mosquito Coast of Honduras and working in an orphanage in Ecuador.
In 2000 Ben volunteered to be marooned on Taransay, a remote windswept island in the Outer Hebrides as part of the BBC's big millennium project Castaway 2000.
Ben has since presented numerous programmes including the BBC's Animal Park, Countryfile, Wild in Africa, Wild on the West Coast, Crufts, One Man and His Dog, Country Tracks and three series' of the hit BBC adventure show, Extreme Dreams in which Ben led ordinary people on extraordinary journeys across some of the most hostile environments on earth. He also made A Year of Adventures for Lonely Planet and BBC Worldwide, Storm City for Sky One and National Geographic. Ben currently presents Harbour Lives, Countrywise and Fisherman's Lives for ITV and New Lives in the Wild (Where the Wildmen Are) for Channel 5. He is a Special Correspondent for NBC News in the US.
Ben has made documentaries on Prince William in Africa, disease in Ethiopia, Captain Scott in Antarctica and Crocodiles in Botswana.
Ben has travelled extensively in South and Central America and has toured the world for various broadcasting assignments including Tristan da Cunha, Pitcairn, St Helena, East Timor, Nepal, Namibia, Kenya, the Arctic Circle, Zambia, Papua New Guinea, Uganda, Libya, Sri Lanka, Fiji, Tahiti, Maldives, Tanzania and Morocco.
Ben had published six books, The Teatime Islands, journey's to Britain's Faraway Outposts, and Offshore in search of an island of my own, both published by Penguin, and the Sunday Times bestsellers, The Crossing (Atlantic), conquering the Atlantic in the World's toughest rowing race and Race to the Pole (Macmillan), conquering Antarctica in the toughest race on earth. His first travel memoir, The Accidental Adventurer (Transworld) followed by The Accidental Naturalist (Transworld)
Ben writes a weekly Diary for the Sunday Telegraph and his writing has appeared in numerous other titles including The Daily Telegraph, The Guardian, the Sun, Country life, the Independent, Glamour magazine, the Daily Mail, the Evening Standard and the New York Times.
Ben's sporting achievements have included beating actor Sid Owen in a three round charity boxing match for BBC Sport Relief. He has completed the Marathon Des Sables, a one hundred and sixty mile, six day, self sufficient race across the Sahara Desert which he ran for WWF. He has completed the Safaricom Marathon in Kenya for theTUSK Trust, the Bupa Great north Run, the London Marathon, Tough Guy, Man versus Horse and the Royal Parks Half marathon. In 2005 he rowed across the Atlantic Ocean with Double gold Olympic medallist, oarsman James Cracknell, in 49 days, setting the British pairs record. In 2009 he took part in a foot race across Antarctica to the South Pole and in 2013 he and James crossed the Empty Quarter with camels.
Ben has won a Royal Television Society (RTS) award for the highly acclaimed Through Hell and High Water. Ben has also been awarded an Honorary Doctorate of Letters from the University of Portsmouth.
Ben is a fellow of the Royal Geographic society, an Ambassador for WWF and Tusk. He is patron for the Royal Parks Foundation . He is also a keen supporter of the Duke of Edinburgh Award scheme, Shelterbox, the Princes Trust, Centrepoint and Hearing Dogs for Deaf People
Ben has his Ocean Yacht-master, and coastal skipper certificates, and is a qualified Dinghy sailor. Ben also has his NAUI Scuba licence, his rally driving licence and he is fluent in Spanish.
Ben married Marina in 2006 after meeting her in the park while the couple were walking their dogs, Inca and Maggi. They have a young son, Ludo and a daughter Iona.
Fee range:
5,000-10,000 GBP