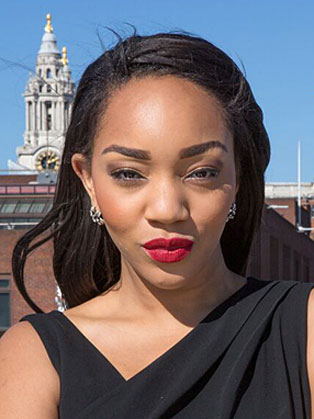 Best known for:
Bianca Miller is the founder of The Be Group and was a finalist on The Apprentice 2014.
Summary:
Bianca Miller is an award-winning entrepreneur also known for creating the brand "Bianca Miller London" which launched in November 2015, a hosiery company which caters to women of all skin complexions ranging from English Rose to Sub-Saharan African.
Biography:
After studying Business Management and Economics at the University of Sussex, Bianca Miller joined the world's largest and most reputable management/ technology consulting firm. Whilst at Accenture, Bianca was HR advisor to a third of a thousand strong graduate pool. In addition to her role she was asked by senior management to develop an initiative to help the graduates develop the desirable skills to aid their career advancement. The initiative was called 'Preparing for Promotion'.
Bianca utilised her natural flair and like a duck to water began advising graduates of the personal brand attributes required to be successful. Having thoroughly enjoyed a career at Accenture, she felt it was time to move on and took a position at a top financial recruitment firm.
A brief stint in the work of recruitment enabled Bianca to experience firsthand the plight of unemployed individuals seeking employment in tough economic times. Time and time again the same types of people succeeded because they understood the importance of their personal brand. Conversely time and time again the majority failed to even pass the first two hurdles. Hurdle number 1 - writing a CV that was captivating / interesting enough to even warrant a phone call from a recruitment consultant. Hurdle 2- Having the right experience on paper and thus being invited into the agency to then fail to execute a satisfactory interview.
By now Bianca was completely convinced that the ability to engage in conversation; network well; exude expertise, and deliver consistently on your brand offering is the key to success, and The Be Group was born. Founded in 2012, the business consists of 3 key sections: Be Branded UK; Be Employed UK, and Be Styled UK.
As well as running her business, Bianca facilitates workshops and mentors graduates as part of the Brunel University WP Mentoring scheme.
Bianca's outstanding business competence, clout and proficiency took her to the final of The Apprentice in 2014, where she impressed Lord Sugar with her passion, hard graft and dedication. Despite becoming runner up, this has not stopped her progress and her idea for a diverse range of nude hosiery became a reality when "Bianca Miller London" launched online in November 2015 and in store at "The Worlds Best Department Store" in Selfridges (London and Birmingham) in January 2016.
In January 2016 Bianca was awarded a prestigious 'Power Profile' from Linked In as one of the top 10 most powerful leaders on the website and is joined by household names such as Richard Branson and James Caan.
During 2016 Bianca is set to appear on CBBC's Pocket Money Pitch, a programme set to empower the next generation of entrepreneurs.
Bianca has become extremely popular for her keynote and guest speaking appearances due to her ability to engage, excite and inspire any audience with any topic. Popular topics have include:
Her inspirational journey
Making dreams a reality
Overcoming issues of diversity
Being a woman in business
Publication:
Self Made: The Definitive Guide to Business Start Up Success - by Bianca Millar and Byron Cole
Fee range:
Please Enquire
Testimonials:
Bianca's speech was truly inspirational and on point. Have had a lot of feedback from the apprentices saying how well they related to the points she made and thought she was inspiring.
Lewisham Apprenticeship Awards
Once again thank you for your cooperation and support. We will definitely recommend Bianca's services to anyone who could benefit from it.
Anna Burszta, American Express
Bianca Miller recently supported our September 2015 Accenture internships programme. Bianca delivered two skills sessions to our interns. The skills session focused on individuals personal brand & presenting styles. Bianca had a wonderful style and connected with the group immediately. The feedback from the interns has been extremely positive and I would welcome Bianca back anytime.
Jon Cooper, Accenture
I just wanted to say how fab Bianca is and so so friendly. I personally think she is amazing and has such a lovely aura and it was lovely to see and hear a speaker full of youth and energy!
Julia Ruddick, HSBC