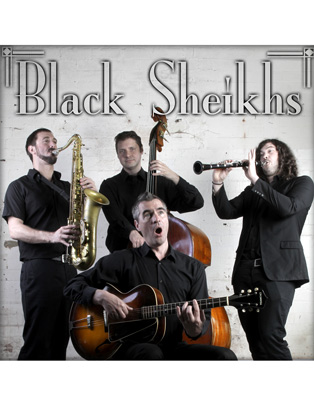 Best known for:
The Black Sheikhs are an act which takes 1920's vintage jazz and mixes it with rhythm and lyrics of the 21st Century for an eclectic style.
Summary:
Vintage reprobates and genre alchemists, the Black Sheikhs fire heady concoctions of punk, pop, rock and swing, steaming into the 21st century.
Biography:
Classic 1920's instruments are played by talented live musicians in an authentic jazz style, but the lyrics and music are from other decades entirely; Abba, Beyonce, Arctic Monkeys, Prince or Taylor Swift – modern music played by a 20's jazz band, in their unique, tongue in cheek manner.
Towering above the dance hall assembly, celebrity socialite Lord Acton and his roaring band exemplify the eccentricity, through elegant carnivals of wild, youthful creatures into the 1920s British style and rhythm.
The group are working on a new show to include tap dancers, 1920's stage props and traditional backdrops. This performance is ideal for larger venues and theatres, it re-enacts a roaring 20's party with plenty of audience participation, dancing and general hilarity.
Fee range:
Please Enquire
Testimonials:
Without a horned gramophone in sight, this five piece were soon delivering today's music in roaring twenties fashion. Abba's Dancing Queen was performed in a tango tempo, turning a seventies disco anthem into a ripping musical yarn! Enough said!
Mark Ritchie - UK Cabaret