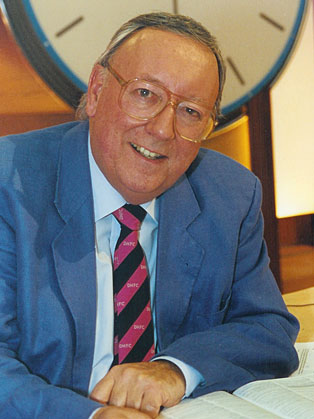 Best known for:
Bob "The Cat" Bevan is a Broadcaster, Author and After Dinner Speaker.
Summary:
Bob 'The Cat' Bevan MBE – recently inducted as a celebrity ambassador for Variety the global children's charity, is one of the most versatile and popular entertainers on the after dinner and conference circuits. Starting with tales about his hopelessness as a goalkeeper he has developed into an all-round comedian, presenter, interviewer and auctioneer suitable for any audience.
Biography:
As a comedian he has appeared all over the world including several tours of Australia including one where he was specially flown out for the Australian Rules Football Final.
He is the first After Dinner Speaker to be honoured by HM The Queen for after dinner speaking and the first to be included in "Who's Who" which "recognises only those who have reached the pinnacle of success in their chosen field"
He became only the second entertainer to be elected as President of a County Cricket Club at Kent CCC in 2013. Sir Richard Stilgoe at Surrey is the only other show business President.
Just recently he appeared at the ultra-politically-correct Kent Law Society Annual Dinner followed by cricket and football club dinners and a corporate charity golf day. He has appeared at 77 of the 92 Premier and Football League Clubs, every County Cricket Club and nearly 100 Golf and Rugby Clubs.
He is a renowned Comedy Auctioneer. He raised £58,000 for the Sir Bobby Robson Memorial Golf Day in Portugal in June.
With his journalistic and PR background hHe has become a popular and entertaining INTERVIEWER and recently worked with Jimmy Tarbuck, Chairman of the Australia Cricket Selectors Rod Marsh, Sir John Major and Sir Alex Ferguson.
His comedy poems and speechwriting are also now in great demand. In July he wrote a poem for the retiring CEO of Rolls Royce and in August for Lord Coe. Other subjects of his poems have included former British Airways CEO Sir Rod Eddington, Ronnie Corbett, David Gower, Gary Lineker, Roy Hudd and, most notably, HRH the Duke of Edinburgh. He wrote two comedy poems for dinners with the Duke who responded by writing one verse about the Cat! A big favourite with the Duke he was one of the comics booked to celebrate his 90th birthday at the Variety tribute, alongside the late Frank Carson, Barry Humphries and Al Murray.
Previously he has worked on scripts and speeches for the Rugby Football Union, British Airways, William Hague, the late Sir David Frost and many other industrialists and politicians.
In broadcasting he is a frequent guest on Sky Sports and Talksport, often appeared with Sir Terry Wogan on Aunties Bloomers, Channel 4's Countdown and presented Six O Six on BBC Radio 5.
His best-selling book on his adventures as an after dinner speaker "Nearly Famous" went into two reprints in hardback and was subsequently published in paperback and on Kindle.
He was the Benedictine After Dinner Speaker of the Year and won the Reuters Jackie Blanchflower Speaker of the Year Award.
He is a Trustee of the Lord's Taverners, an Honorary Barker of Variety and a Celebrity Ambassador, a member of the Grand Order of Water Rats, Past President of Kent CCC, the National Sporting Club, the Old Wilsonians' Association, Bells Yew Green CC, a Vice-President of Crystal Palace FC, Middlesex Wanderers FC, Dulwich Hamlet FC, Tonbridge Angels FC and Old Wilsonians FC. He is a former Member of the National Union of Journalists and the Chartered Institute of Public Relations.
Fee range:
Please Enquire
Testimonials:
Thank you for providing a thoroughly entertaining after dinner. It was truly enjoyable, funny, current. I would not hesitate to recommend you to others.
Nikki MacMillan, Regional Events Executive, Chartered Institute for Securities and Investment, October, 2016