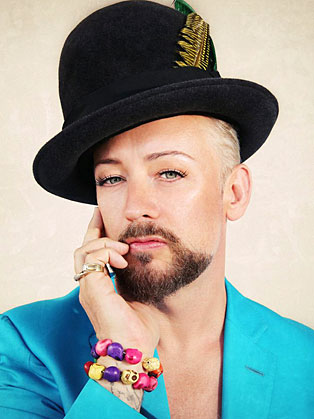 Best known for:
Boy George is a British singer, known for his flamboyant and androgynous image, who once fronted the band Culture Club.
Summary:
Boy George's band Culture Club released their debut album, Kissing To Be Clever, in 1982, and their third single, "Do You Really Want To Hurt Me?" was a huge hit, reaching the No. 1 spot in 16 different countries. More recently he has been set to join Paloma Faith and Rita Ora as judges on The Voice.
Biography:
Boy George, born as George Alan O'Dowd, is internationally known for emerging as a creative artist from England during the English New Romanticism movement in the 1980s where artists used to wear bizarre clothing and outrageous make-up to express themselves. George became one of the pioneers of the movement and received acclaim with his rhythm, blues and reggae style singing and preposterous cross-dressing.
He was discovered by the former producer of 'Sex Pistols' and was made a part of the already existing group 'Bow Wow Wow' but his talent and unique style compelled him to form his own band called 'Culture Club'. It was during his 'Culture Club' days that George was recognized world over with hit singles like 'Do You Really Want to Hurt Me?' and 'Karma Chameleon' and started to be known as 'blue-eyed soul'. George worked on his solo career as well for years and experimented with dance and electronic music, collaborating with DJ and producers like Kinky Roland.
George is also a writer, he not only writes song lyrics but has also written two autobiographical books called 'Take It Like a Man' and 'Straight'.
Fee range:
Please Enquire