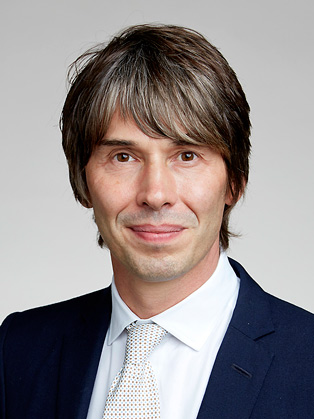 Best known for:
Arguably the UK's best known experimental physicist, Professor Brian Cox's books and TV programmes have been read and watched around the world and credited with making science engaging and accessible to millions.
Summary:
With his down-to-earth, likeable enthusiasm, Professor Brian Cox is frequently labelled a 'rock star scientist'. Once the keyboard player for D:Ream, he has come a long way to his position as Professor of Particle Physics at Manchester University and a key part of the ATLAS and the CERN Large Hadron Collider projects.
Biography:
Professor Brain Cox's blockbuster TV shows include Wonders of the Universe, Wonders Life, and Forces of Nature, each looking at the fundamental science behind everything from stars and planets to atoms and microbiology. He has also presented Stargazing, Space Hoppers, The Big Bang and numerous editions of Horizon. His books accompanying the Wonders of... series have become huge bestsellers, as did his co-authored titles Why Does E=mc2? and The Quantum Universe.
From speaking at TED in the US to World Economic Forums in Davos and China, Brian's presentations engage, inform and entertain. They feature awe-inspiring images from the depths of the universe as well as his trademark infectious enthusiasm for his subject. Alongside the story of life, the universe and everything, Brian argues that science can unite the world in an attempt to discover our shared origins and answer long-held mysteries. He also explains the work of CERN and their attempts to use cutting-edge technology and engineering to recreate events fractions of a nanosecond after the Big Bang "in the hope of revealing the underlying simplicity of the universe."
An International Fellow of the Explorers Club Brian was awarded the prestigious Lord Kelvin Award for his work in promoting science to all. When not filming around the world, Brian writes for a range of newspapers and journals and co-hosts Radio 4's Infinite Monkey Cage, the comedy and science programme. He and his friend and co-host Robin Ince examine the big and not-so-big science questions alongside comedians, scientists and celebrities both on air and on tour. Brian also serves as the Royal Society's Professor for Public Engagement in Science.
Speech titles
Fee range:
Please Enquire