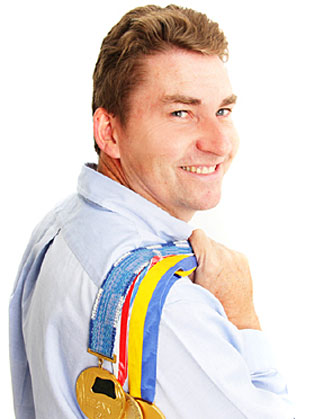 Best known for:
Brian is a European Champion.
Summary:
Brian is famed for winning the 4x400m relay with only one shoe. He is a two time European gold medalist, and goes down in the hearts of British fans as the epitome of perseverance and determination. Brian is now a coach and mentor.
Biography:
For those of a certain age, Brian Whittle is a superstar. He stands for everything that is good about the British 'never say die' attitude.
Running the second leg for Great Britain in the men's 4 x 400m relay in the European Championship Final in 1986, Brian had one running shoe ripped from his foot by his team mate Kris Akabusi during the change over. Without even seeming to recognise, Brian continued his race, completing his leg in a new personal best time. His team mates Roger Black and Derek Redmond went on to secure Gold for the GB Team. It was a remarkable victory and Brian's running socks featured significantly in the media the following day.
In a top class international career, Brian has represented Great Britain 45 times, running in all of the major championships. His best time for the 400m was 45.22, set in the 1988 Seoul Summer Olympics in 1988. Brian made the semi-finals, but missed out on a final berth. The GB Relay team featured strongly in the final, but ultimately came up short of the medals in 5th place.
Brian went on to win team Gold in the 1994 European Championships in Helsinki. He had moved to 800m following the 1988 Olympic Games and ran in the final of the Commonwealth Games 800m in New Zealand, where he finished 4th ahead of Sebastian Coe.
Other notable performances include running 45.98 at the European Indoor Championships in Budapest where he won the silver medal. He went on to repeat this feat in 1989. Brian also ran the last leg of the winning 4x400m relay in the Europa Cup in 1989 (Gateshead) helping Great Britain to win the Europa Cup for the first time.
Off the track, Brian has been forging two careers, training young athletes and also helping businesses to grow and develop through structured management and leadership programmes. Brian has also undertaken many individual talks and presentations. Brian's structured programmes cover theory and practical application of his techniques. He has worked with a range of businesses of various sizes, and the feedback he has received has been excellent.
Fee range:
Please Enquire