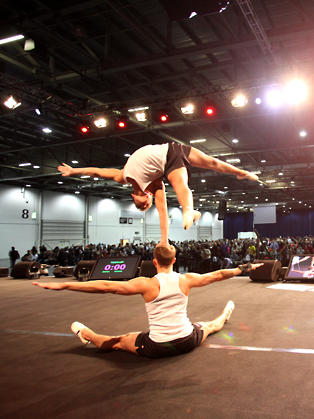 Best known for:
Their act, Spellbound, which won the 2010 ITV talent show, Britain's Got Talent.
Summary:
Edward Upcott (five time British acrobatic champion) and Doug Fordyce first claimed major success with their 2010 winning gymnastic duo at the Polish world championships. Through their participation with the act Spellbound, Edward and Doug excelled their success by winning the 2010 ITV TV talent show, Britain's Got Talent. Since their departure from Spellbound, Edward and Doug have continued their victorious partnership with their new act, Brothers of Eden.
Biography:
Edward Upcott and Doug Fordyce started working together as a pair in January 2009 and after just a few months they had won the British title. Later on in the year they competed at the World Games & European Championships, where they medaled at both events.

The 2010 World Championships was their final competition together... What a way to end by becoming the Acrobatic World Champions! In 2010 with SPELLBOUND they won the ITV talent show Britain's Got Talent.

They both took part in the London 2012 ceremonies.
Fee range:
Up to 5,000 GBP