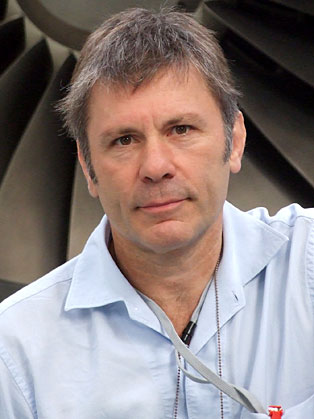 Best known for:
Bruce Dickinson is the lead singer of Iron Maiden, a commercial pilot, brewmaster, entrepreneur and creative business thinker.
Summary:
Bruce delivers world-class speeches to corporations around the globe. He compares the challenges of operating in the world of rock music and commercial aviation with those in the business world; from teamwork, forward planning and the ability to learn from setbacks and move on successfully. Bruce's speeches are a whirlwind of ideas and inspiration that will energize and intellectually refresh listeners with a world-class delivery of the spoken word.
Biography:
Bruce Dickinson is a charismatic and unique entrepreneur, creative business thinker, commercial pilot and brewmaster, in addition to being the lead singer of Iron Maiden. Bruce was a pilot and Marketing Director for Astraeus Airlines, and is the chairman and founder of Cardiff Aviation.
Bruce is involved in an air ship venture to manufacture lighter than air hybrid transport aircraft and Pouncer, the incredible edible drone developed by Windhorse Aerospace that will safely fly humanitarian aid into hard to access disaster areas. Bruce hasn't stopped flying Boeing 757s, and in 2016 flew the band around the globe on their "Books of Souls" world tour in their own Boeing 747.
Bruce is chairman of a company called GoldiLOx Space, a commercial astronaut training company, and Vice-Chairman of Pouncer, a design of drone designed to aid famine relief around the globe.
Bruce focuses on turning customers into fans – with information going viral all the time, which speaks volumes for business, with customers being loyal to a brand. Bruce enjoys the thrill of creativity and refreshes this spark in audiences across a range of business topics.
'What Does This Button Do?' is the long-awaited memoir from Bruce, in which he turns his unbridled creativity, passion, and anarchic humour to reveal some fascinating stories from his life, including his thirty years with Iron Maiden, his solo career, his childhood within the eccentric British school system, his early bands, fatherhood and family, and his recent battle with cancer. This book reached No.1 on The Sunday Times Bestselling Autobiography list. Bruce is also heading out on tour with this book, starting in February 2020 in Romania and ending on 26th August in Brazil.
Topic Areas
Turning your customers into fans
Entrepreneurship
Corporate culture
Business start-ups
Business turnaround
Risk management
Travel and aviation industry
Team building
The life and times of Bruce
Motivation & inspiration
Business creativity
Publication:
"What Does This Button Do?" (19th October 2017, Harper Collins)
Fee range:
Please Enquire
Testimonials:
Bruce demystifies the ambiguous world of creativity in a business context and makes you believe in hard work and thinking differently paying off so that everyone can fulfil their potential.
Global Events Organiser
Our Board members and staff alike were wowed by Bruce's message, powerfully delivered. They went away looking forward to creating a fresh approach to client relationships.
European Insurance Services