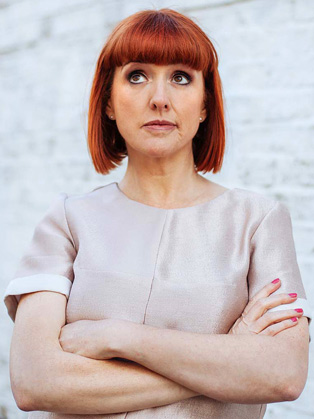 Best known for:
Cally Beaton is best known for being a comedian, media business leader, performer and coach.
Summary:
After joining the board of ITV, Cally went on to set up her own company and serving as an SVP in charge of International Sales at media giant Viacom, she also started a parallel career in comedy. Cally brings humour and energy to workplace insights ranging from how to foster a creative, positive environment to how to inspire and lead through change.
Biography:
Cally beaton is a media executive, entrepreneur and performer. At the beginning of her career she was the head of an independent television production company that was bought by ITV. She joined the board of the UK's main commercial broadcaster as both the youngest and the only woman member who for a while sat alongside David Cameron. She then left ITV to start a creative consultancy and production company as well as joining Viacom as Senior Vice President of International Sales.
At Viacom, Cally oversaw around a £5million budget for channels including Nickelodeon, MTV, Comedy Central and Paramount, with programmes including Friends, Russell Howard's Good News to SpongeBob SquarePants. She was also responsible for selling programmes and formats around the world she combined working with on-screen and production talent with business planning and strategy, bridging the divide between creative and financial priorities.
Whilst working on Comedy Central, Cally developed her other life as a standup comedian and despite joining the circuit after already establishing an impressive corporate career, the move has seen her perform at clubs around the country, front her own show at the Edinburgh Fringe and appear as a guest on QI and Radio 4's The Museum of Curiosity.
Cally considers the nature of the workplace and leadership culture, she looks at how to engender change, inspire teams and develop a positive, agile and inclusive environment. Cally tackles the working priorities and expectations of the so-called millennial generation, and reveals how to be creative whilst keeping an eye on the bottom line. Her personality, love of performance and business knowledge has also seen her coach and train senior figures from a range of industries.
As well as her stand up material, Cally has authored keynote speeches based on her experiences:
The Secret Seller
Not many people want to think of themselves as sales people, but ultimately, like it or not, that's what we're all doing - personally, professionally, every day, in every way. In this talk, Cally looks at how you can master the art of the sell, without taking on the traits of a used car trader. It includes: the neuroscience of communication (including a transformative exploration of the amygdala hijack), how to influence, communicate and negotiate to maximum effect, how creative meets commercial (some whizzy left and right brain stuff), how fight or flight can be your best friend and your very worst enemy and how to start creating new habits, right now, today, for life.
As well as walking away feeling motivated and full of non-gimmicky selling energy, other take outs include:
What selling and negotiation is
Triggers, responses and choices that can be made
Filters and thinking patterns - the varying ways in which you and others see the world, and how to use it to your advantage
The ability to build and enhance difficult relationships - what to do when the going gets tough
The power of the 'curious' mindset and how to use it
What the most successful people do at work:
In this talk, Cally looks at what the most successful people around us have in common, and what you can do to be up there with them, apart from wondering why you don't have their 'good luck'. This informative, funny and above all practical talk covers everything from belief systems and the unconscious mind, to time and task planning and delegation, to managing upwards, downwards and across, to appropriate assertiveness and communication/presentation styles, to the formula behind charisma - what is it? can you bottle it? And if so, what's the recipe?
Take outs include:
Compelling outcomes - how to create them, and identify other options when you think you've hit a 'dead end'
The art of flexibility and moving forward, even in seemingly inflexible surroundings
An understanding of belief systems, the impact they have, and what you can do about them
Enhanced ability to build rapport - even on stony ground
Increased self-belief and motivation
Cally has produced and hosted many prestigious international events, including regular bookings in London, New York and Cannes. She is a sought-after comedian, public speaker and panellist and a highly-skilled and experienced presenter.
Fee range:
Up to 5,000 GBP
Testimonials:
Cally always delivers. She understands her audience (and the television business, which is a task in itself) and can be relied on to deliver smart, funny curation of even the most challenging events.
David Jenkinson, Editor in Chief C21 Media
Cally was by far the most thorough host i've ever worked with in terms of her preparation and research, and this is without a doubt what made the awards very individual, personalised and honest. She struck the perfect balance between professionalism and comedy, kept the audience entertained and engaged throughout and was incredibly warm and positive about the individual businesses and the awards themselves. But above all, Cally was down to earth, accommodating and just a downright lovely person - we couldn't have asked for a better host!
Cumbrian Tourism Awards