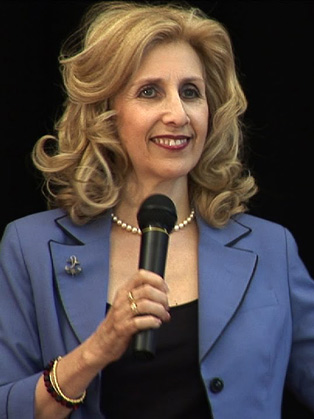 Best known for:
Carole Spiers is the leading authority on Resilience and Change.
Summary:
Carole Spiers is not just a performer, but Chair of the International Stress Management Association (UK). She is also a Fellow and Past President of the London Chapter of the Professional Speaking Association.
Biography:
Carole Spiers is founder and CEO of the UK's No.1 Consultancy on Stress Management & Wellbeing. Her focus is on developing a healthy workplace culture by building resilience and managing change for improved health and wellbeing - all of which is underpinned by her own experience as an Expert Witness before the UK courts.
Carole is a motivational speaker in the full sense. She has a unique ability for empowering people to change attitudes and mindsets that hold them back from unlocking their untapped potential.
Carole writes on topical issues facing management and is a weekly business coloumist. She is the Author of the UK's industry bible, Tolley's Managing Stress in the Workplace and Show Stress Who's Boss! which has been translated into Arabic and is for sale in the Middle East and India.
In 1998, on behalf of the International Stress Manage- ment Association (UK). Carole founded National Stress Awareness Day which is now an annual event.
Carole has worked with equal success in the contrasting cultures of UK and UAE, advising, coaching and training clients to achieve sustained success through a healthy workplace culture.
Carole is Chair of ISMA (International Stress Management Association) and the founder of International Stress Awareness Week.
Key topic areas:
Resilience Under Pressure: Coping with long-hours, advanced technology, information overload. Controlling your tension-levels to build strong mindsets and attitudes.
Changing Times Demand Positive Action!: Why change is difficult to manage. How to be mentally tougher. Empowering teams. Motivate, engage and inspire – carry them with you!
Forging Relationships through Active Listening:

Knowing how to listen - An essential factor in business communication.

Diagnosing tough problems. Diffusing disputes. Conducting interviews.

Speaking to Engage & Influence:

P

itching and presenting with impact, in order to win that contract.

Asserting your authority at group meetings and in conversation.
Carole's inspirational style and range of topics are equally suitable for a curtain-raiser, closing speech or a major keynote. She can carry a full-day event with confidence, either as speaker or conference chair.
Carole's new keynote for 2018: Changing Times Demand Positive Solutions: Turning Problems into Opportunities for Growth - can be delivered as a Senior Management Business briefing, as a Masterclass or a one-day interactive Workshop.
Publication: Tolley's Managing Stress in the Workplace and Show Stress Who's Boss!
Fee range:
Please Enquire