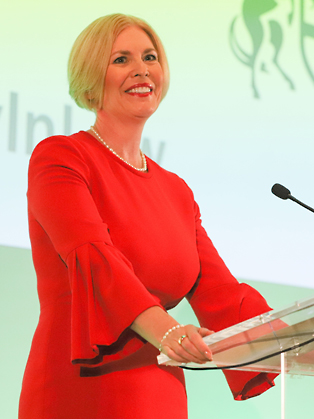 Best known for:
Former President of The Law Society, leading the Society through its biggest diversity and inclusion programme in history.
Summary:
Christina was the 174th president of the Law Society of England and Wales and the fifth woman to hold this office. During the presidential year 2018/19, Christina's main priorities were: diversity and inclusion - focusing on social mobility and women in leadership in the law; the future of the profession - including legal technology and leading the LawTech Policy Commission; promoting access to justice for all and mental health and wellbeing in the legal profession. Christina has been at the heart of UK law, law tech and women in technology, chairing government panels and thought leadership.
Biography:
She now runs her own consultancy business providing strategic advice particularly in the area of transformational change, technological developments and diversity and inclusion.
She holds a range of public appointments including chair of the LawTech Delivery Panel, chair of the Next Generation Services Advisory Group, part of Innovate UK, member of the Legal Support Advisory Group and of the Family Justice Council.
Christina was President of the Law Society of England and Wales until July 2019 and performed a huge range of ambassadorial and representative functions both domestically and internationally.
She is passionate about diversity and inclusion, technology and access to justice and uses every opportunity to advocate and progress positive change in these areas.
On access to justice, Christina led on a number of high-profile campaigns to protect and empower some of the most vulnerable in our society including chairing the Grenfell Lawyers Forum.
On innovation and the future of legal services, Christina chaired the Law Society's Legal Technology Policy Commission which produced a wide-ranging report and recommendations about the use of algorithms in the justice system: https://www.lawsociety.org.uk/support-services/research-trends/algorithm-use-in-the-criminal-justice-system-report/. In addition to her government posts, Christina sits as a Commissioner on the Oxtec Commission which is advising government on the use of technology in elections. She is heavily involved in the technological issues relating to supra-national legislative and regulatory frameworks as well as the need to demystify lawtech and empower all lawyers to embrace relevant technology. Christina led on the Society's relationship with Barclays to develop lawtech incubators.
On diversity and inclusion, Christina has developed and leads on a programme focussed on women in leadership in law. The project produced the largest ever global survey on the issue, two toolkits which supported over 250 roundtables in 22 jurisdictions and led to 3 insight reports and a Women in Law Pledge which was supported by the government and all legal representative bodies. This was launched at the international symposium Christina arranged in June 2019.
Christina represents the Women Lawyer's Division and is an active committee member. She also sits on the Thomson Reuters Women in Law Advisory Board and the Chartered Institute of Insurers' 'Insuring Women's Futures' Advisory Board.
Christina is a multi-award winning (for innovation and diversity and inclusion) published author, speaker and lecturer and frequent media commentator.
Key Topics:
Law
Diversity and Inclusion
Leadership and Change
Technology, Legal Technology and Women in Law
Thought Leadership
Legal Policy & Regulation
Fee range:
Please Enquire
Testimonials:
Christina Blacklaws is an inspirational, energetic and thoroughly modern leader with wide ranging experience covering a lot of different fields. She combines passion with persistence and charm with incisive knowledge of each of the many topics she tackles. She connects well with audiences of every sort. She is equally at home as a keynote speaker, a chair or a panellist. She has great experience of addressing both international and domestic audiences.
Stephen Denyer, Director of Strategic Relationships, The Law Society