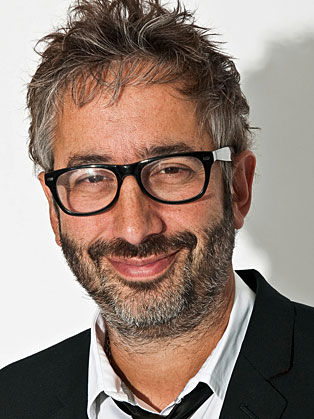 Best known for:
David Baddiel is an English comedian, novelist and television presenter.
Summary:
David Baddiel is known for his work alongside Rob Newman in The Mary Whitehouse Experience and partnership with Frank Skinner. Besides comedy, Baddiel is also a published novelist and a screenwriter.
Biography:
David Baddiel became a cabaret stand-up comedian after leaving university and also wrote sketches and jokes for various radio series. His first television appearance came in a bit-part on one episode of the showbiz satire, Filthy, Rich and Catflap. In 1988, he was introduced to Rob Newman, a comic impressionist, and the two formed a writing partnership. They were subsequently paired up with the partnership of Steve Punt and Hugh Dennis for a new topical comedy show for BBC Radio 1 called The Mary Whitehouse Experience, and its success led to a transfer to television.
Baddiel then took in a lodger at his London apartment – fellow comedian Frank Skinner and asked Skinner to co-present when he was offered the chance to do a programme based on the fantasy football craze. The show was Fantasy Football League, and later they took an improvised question-and-answer show to the Edinburgh Festival which then became a television show, Baddiel and Skinner Unplanned.
Aside from acting and writing, Baddiel has published four novels: Time for Bed (1996), Whatever Love Means (2002), The Secret Purposes (2006), and The Death of Eli Gold (2011).
Baddiel is also a patron of the Campaign Against Living Miserably. He acted as a compere for the Stand Up to Stop Suicide event organized by Claire Anstey and the charity, and has appeared on radio advertisements publicising the issue of young male suicide.
Fee range:
Please Enquire