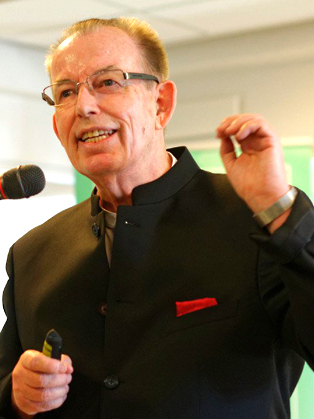 Best known for:
David Clive Price PhD is an international bestselling author, speaker and CEO advisor.
Summary:
David Clive Price is a global executive coach who is passionate about leadership and management development, talent and engagement, he brings 30+ years experience of senior leadership coaching, strategic advisory and change management roles to his delivery of global leadership programs.
Biography:
David Clive Price Ph.D has had a passion for Asia's people and cultures ever since he went to Japan in the 1980s and wrote a book about his travels throughout the country. Building on his own learning as chief Asia speechwriter and cultural integration specialist for HSBC, David has coached and advised leadership teams for many global organisations including; AIA, Standard Chartered, Credit Suisse, Santander, Julius Baer and Morgan Stanley as well as political and trade leaders.
Speaking English, French, German, Italian and Cantonese, and having lived and worked in numerous countries, David's multicultural experience informs all his executive coaching, as well as his bestselling book 'Bamboo Strong' with Foreword by Dr. Marshall Goldsmith.
David is a visiting lecturer on global leadership at the University of Greenwich Business School, he holds a Ph.D in Renaissance History from the University of Cambridge and often appears in the media, for things such as; BBC Radio, The Wall Street Journal, Business Insider, and International Business Times. His multicultural and lively keynotes have inspired audiences from Australia, Denmark, Hong Kong, The Netherlands, New Zealand and Singapore, to the United Kingdom and the United States.
David is the author of four books on international business and leadership. After living for twenty-five years in Italy, Switzerland, Hong Kong, Japan, South Korea, United Kingdom and the United States, he is now based in London.
Topic Areas:
Bamboo Strong – Helping leaders to thrive in a fast changing global market.
The age of pluralism – Global intelligence for CEOs, Leaders and Coaches
Publications:
Bamboo Strong: Cultural Intelligence Secrets To Succeed In The New Global Economy (2016, 2019)
The Master Key to Asia (2013)
The Master Key to China (2014)
The Age of Pluralism: Global Intelligence for Emerging Leaders (Spring 2019)
2020 Engagements:
Institute of Management Studies, USA, 3 City Tour – New York, Chicago & Philadelphia for "The Age of Pluralism – Global Intelligence for CEOs, Leaders and Coaches"
Fee range:
Please Enquire
Testimonials:
Bamboo Strong is exactly what savvy business leaders need to manage in today's complex, multidimensional markets.
Dr Marshall Goldsmith, world's number 1 leadership thinker and executive coach.
Terrific and creative guy to work with! He has a wide knowledge of international business behaviour
AIA Group
Thank you so much for being our guest speaker at the Hong Kong conference and for entertaining our delegates in such a thought provoking way. Many delegates have commented how much they enjoyed your presentation.
IAPA International Conference, Hong Kong