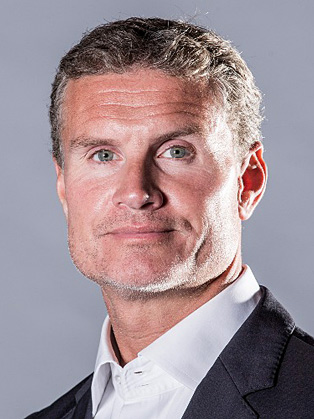 Best known for:
David Coulthard MBE is a British former Formula 1 racing drive turned presenter, keynote speaker and journalist.
Summary:
David Coulthard MBE was one of the best of his generation. Now a pundit for Forumla One coverage, David is still very much involved in the sport. An excellent keynote speaker on the topics of motivation, teamwork and leadership, David can apply his peak performance skills from the racing world to a business audience.
Biography:
David Coulthard MBE dominated Britain's junior Formula Ford categories in 1989 and became the first ever recipient of the McLaren Autosport BRDC Award for young drivers. In 1991 he fought a titanic battle with future Formula 1 rival Rubens Barrichello for the British Formula 3 Championship, and won the prestigious Macau F3 Grand Prix.
He joined the Williams Formula 1 team as a test driver in 1993, and after competing in eight grands prix for the team in the 1994 season he became a full-time F1 driver in 1995. That year he won the Portuguese Grand Prix and finished third in the championship.
After moving to McLaren, David took his new team's first win in three seasons at the 1997 Australian Grand Prix. In all, he scored 12 of his 13 grand prix wins and 51 of his 62 podium finishes with McLaren, and, after supporting team-mate Mika Häkkinen to the drivers' championship in 1998 and '99, he finished runner-up to Michael Schumacher in 2001.
In 2005 David moved to the newly formed Red Bull Racing team. By the time he retired from Formula 1, in 2008, he had notched up 535 points, making him the highest scoring British driver of all time. David stayed on as a consultant to Red Bull and also acts as an ambassador for Mercedes-Benz.
Coulthard returned to racing as an active driver in the DTM series in 2010, piloting a 2008 Mercedes-Benz C-Class for Mücke Motorsport. Alongside competing in the DTM, David regularly appears as a pundit on BBC TV's Formula 1 coverage.
Fee range:
Please Enquire