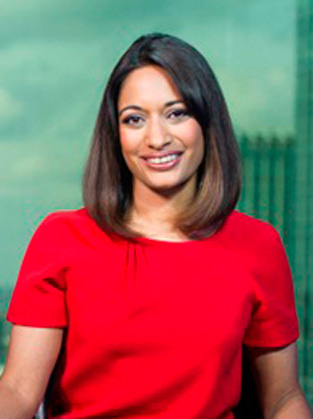 Best known for:
Dharshini is a broadcaster, economist and author, who has extensive experience as a keynote speaker and conference chair.
Summary:
Dharshini is a presenter of financial programmes, who has fronted shows across the BBC and Sky News. She's a highly experienced business and economics journalist who is as comfortable at analysing and debunking economic developments as she is probing business leaders about their accounts.
Biography:
Recruited by the BBC initially as an economics correspondent for national news bulletins, Dharshini David went on to present Panorama and the BBC's Wall Street coverage from New York as the financial crisis took hold. A versatile broadcaster, she also presents general and political news programmes, and co-presented Sky's flagship "Sky News Tonight" programme alongside Adam Boulton.
Her career has included working as an economist in the City, where she was HSBC Investment Bank's UK Economist, and government. She has also spent time advising Tesco's board, and its then CEO Sir Terry Leahy, on broadcast media strategy.
Dharshini has recently published her first book "The Almighty Dollar" which explains in accessible terms the economic foundations that underpin the modern world. Now freelance, Dharshini provides economic commentary on domestic and international issues across a range of print, broadcast and specialist outlets and is a presenter for several programmes including Today on Radio 4.
She has extensive experience as a keynote speaker and chair of financial conferences and other events, from women in leadership forums to literature festivals. She is adept at managing panel discussions and conducting on-stage interviews.
Fee range:
Please Enquire