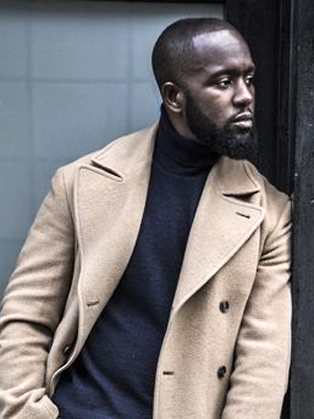 Best known for:
Dumi Oburota is an inspirational entrepreneur who is co-founder of Disturbing London which Dumi describes as an "entertainment and lifestyle company."
Summary:
Dumi Oburota is the Nigerian-British entrepreneur credited for engineering Patrick Okogwu AKA Tinie Tempah's rise to stardom. He is also attributed to being behind strong acts like WizKid and asides music, he boasts a clothing label under his "Disturbing London" company. Now he is on a mission to make Disturbing London "a stamp of coolness for millennial, urban culture".
Biography:
Born to Nigerian parents in South-East London, Dumi grew up with his brothers and sisters in a 'fun house full of music.' Living amongst a close-knit community of family friends, it was here Tinie Tempah and Dumi were first introduced at a family party.
Son of an entrepreneurial landlord father and social worker mother, Dumi grew up with their driven and caring authorities whilst also being influenced by South London street culture. It's this hybrid of inspiration that has shaped his personality and the direction of his business into what it is today. Dumi has made his father's ambitions an actuality – shirking any suggested class or social barriers, throwing out the rulebook and winning at his own game.
Whilst studying a degree in sports science at the University of Greenwich, Dumi tried to forge his own career as a rapper, but says he ultimately realised his voice was not good enough. Instead, he decided that he would be better suited as a music manager. Dumi's 'obsession with the music business' was fuelled by his constant reading, studying and learning about the industry in order to see where the gap in the market was. It was through his determination that this gap has now been filled by Tinie at the forefront of British hip hop. The start, albeit slow, was not laborious but rather more relentless and at times cash limited. Dumi invested his student loans in getting Tinie Tempah studio time and made extra money to invest in his act by buying old cars, doing them up, and then selling them on at a profit. Today Dumi continues to manage Tinie, as well as singers such as Jessie J, as part of running a wider business called Disturbing London.
Disturbing London was founded in 2006 and comprises of artist management, record label services, publishing, fashion design, brand partnerships, event curation and digital services - spanning music artists and music marketing. An innovative thinker unafraid to stand at the forefront of conversation around the music industry and its development, Dumi believes 360 entertainment companies such as Disturbing London will compete in a major way with major labels, providing a diversified offering for artists looking to have more autonomy and a more hands-on approach to their career. For now, Dumi's plan is to expand Disturbing London's brand into a cultural and social movement that portrays the positivity, diversity and beating heart of London to the world. Speaking on Disturbed London, Dumi said:
"I love music, I love fashion, I love trends. I am passionate about technology. These disciplines cannot commercially survive autonomously – collaboration is our only way forward. Disturbing London is here to do just that. Disturb. London. And then, the world. Challenging the preconceptions of what the music and fashion industry is all about, confronting social stereotypes and invisible boundaries perceived by those who are facing them and creating a better future – commercially, technologically and socially."
Throughout the last decade, Disturbing London, under Dumi's leadership, has worked alongside a range of international brands such as Nike, Selfridges, Lynx, Wireless, Mercedes Smart, Hard Rock Hotel, Ushuaia and many more – all keen to align themselves with the Disturbing brand. Most notably, Dumi recalls his greatest moment being his involvement with London's Olympic Games in 2012. Tinie Tempah, his business partner, friend and client closed the ceremony, a glorious moment he describes as 'the culmination of two guys having a dream and making it happen.'
The industries that Disturbing London straddle - music, fashion, technology and lifestyle provide a 360 view point for Dumi and Disturbing, allowing them to constantly innovate, push boundaries and provide a platform that intelligently targets and focuses across these ever merging arenas. Dumi says:
"Along with Tinie and the team here at Disturbing we are merging genres, working across platforms, simultaneously working "IRL" and online and are always looking for the new sound, the new look and the newest technology. Our legacy is only just beginning but we are confident our position in the market place will allow us to keep adapting and progressing as the world does too - we are committed to staying at the forefront of this incredible industry."
But rather than a businessman seeking happiness to spread merely employee satisfaction, Dumi is different. He uses the tricks of his trade; his education, his demeanour and his growing black book to turn the dreams of creative individuals, and a whole city for that matter, into a reality. Perhaps – above being called a creator, manager and connector – Dumi can be best described as a crusader.
Well known for his interest in sartorial trends and a regular in GQ's 'best dressed' lists (most recently listed as #2's Best Dressed Stylish Business Men 2015) Dumi is a regular at L:CM and a keen purveyor of the fashion industry, an arena he believes will become more boutique and shaped by 'speed, truth, and agility', due to the power of social media. Dumi is also a keen investor and consultant who advises and develops brands with a strong vision, currently this includes: Crowdmix, Vivid Drinks, Groovefest (a house music festival in the Dominican Republic) and a range of property investments.
At the 2016 Black British Business Awards, Dumi won the Entrepreneur Rising Star Award for his work within Disturbing London to build a diverse and dynamic workforce. In 2017 Dumi was nominated at the Music Week Awards for Manager of the Year.
Fee range:
Please Enquire