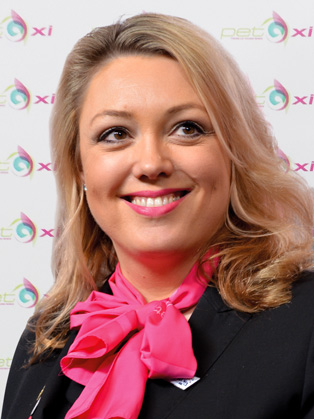 Best known for:
Fleur Sexton is the UK Businesswoman of the Year 2017/2018 and has recently become the Deputy Lieutenant of the West Midlands representing Her Majesty's Lord-Lieutenant of West Midlands.
Summary:
Fleur Sexton is an inspirational Businesswoman who is the founder of PET-Xi Training, a high-energy training specialist whose multi-award-winning training teams have, since 1995, worked to help over 150,000 people identify training goals and unlock their potential. Starting from humble beginnings, Fleur has built up a company from her bedroom into a multi award-winning company and is now dedicated to motivating women to find their voice and fulfill their potential.
Biography:
Fleur Sexton is the Managing Director and founder of multi-ward winning PET-Xi Training, whose relentlessly upbeat teams and innovative programmes deliver impact, inspiration, productivity and value across the UK. PET-Xi have to date worked with 150,000 students in schools across the U.K. helping to improve results and progression, they recently pioneered a UK wide "Upskilling the Nation" scheme for unemployed & homeless adults, helping them to return to the workplace and society and an apprenticeship scheme to help young people gain vital skills, experience and qualifications in the world of work while helping employers to raise standards and close the skills gap.
Fleur has come from very humble bedroom entrepreneurial beginnings, founding PET-Xi and turning it into a multi-award winning business, including being the newly-crowned Coventry Telegraph Company of the Year 2017. Fleur is now deeply committed to motivating and inspiring women in business to find their voice and fulfill their potential and to highlighting to Government and employers the real value of investing in skills.
Fleur is dedicated to breaking barriers and improving chances, investing much of her time and 10% of profits into these activities, campaigning to Government and employers to invest in skills, motivating women to fulfil their potential and running the PET-Xi Foundation which raises money for young people nationwide. She runs free childcare for staff children in order to provide role models for young people and make a family friendly working environment.
Also, a board member of Coventry & Warwickshire Champions, Historic Coventry Trust, Chamber of Commerce and The NSPCC Business Group. PET-Xi are very hands-on, sponsoring and actively supporting at Birmingham Hippodrome, were active bid development sponsors of the successful Coventry City of Culture 2021 bid, The Wasps Netball team STEM project and Coventry Blaze Ice Hockey community foundation.
Awards Won by Fleur and PET-Xi include:
Women of the Year– UK Businesswoman of the Year 2017/2018
Coventry Telegraph Company of the Year 2018
Midlands Business Awards Corporate Commitment to the Community Winner 2017
Topics Fleur speaks on include:
Diversity & Women
Breaking Barriers
Transformation
Inspiring Leadership
Creating a Life Affirming Workplace
Customer Centricity
Values, Purpose and Passion
Resilience
Corporate Culture
Motivation, Inspiration & Entrepreneurship
Fee range:
Up to 5,000 GBP
Testimonials:
Will Smith, Greenshaw Learning Trust
Fleur Sexton is an inspirational speaker with a passion for helping people to find their purpose, develop resilience and determination, and understand the importance of dealing with what's real. Her commitment, focus and drive shine through and will set you on the right road to delivering results, no matter what problems you're faced with.
CEO, NatWest, Commercial and Corporate
There are many types of speakers and the best are able to inspire, engage, connect to their audience and inform whilst creating energy and fun in the room. I can honestly say that Fleur Sexton is the 'best kind of speaker' with warmth and a genuine desire to educate and empower her audience. As Businesswoman of the Year 2017, Fleur has so much worth sharing with others.
Louise Bennett OBE DL, Chief Executive, Chamber of Commerce