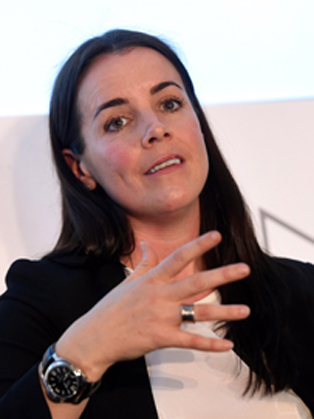 Best known for:
Fran Millar is Chief Executive Officer of Belstaff, former CEO of Team INEOS and one of the founding members of Team Sky.
Summary:
Now CEO of Belstaff, Fran Millar was until recently CEO of Team Ineos and former Head of Winning Behaviours and Director of Business Operations, Fran heads up the business and people functions within the world's most successful cycling team. Fran is a huge hit with audiences both in the UK and internationally. Her passion for her subject coupled with her natural delivery style is always well received. She is one of the most engaging speakers that we have ever worked with and which an entire audience can relate to.
Biography:
Fran Millar has recently been appointed Chief Executive Officer of Belstaff. Former CEO of Team INEOS where she led the development of the Team's operational and governance systems alongside all of the business and engagement strategies. Fran has been with the Team Ineos, formerly Team Sky, from the very beginning and during this time she has played a key role in the successes and gained considerable experience in all areas of the team.
She previously held a dual role as both Director of Business Operations and Head of Winning Behaviours at Team Sky. Returning to head up all the team's "off bike" functions in 2015, her responsibilities included overseeing the team's marketing and communications strategy, stakeholder management, and all the commercial and legal aspects that come with running the world's number one cycling team.
In her previous role as Head of Winning Behaviours, Fran looked after Team Sky's values, culture and people. A role introduced at the end of 2013 when the team had successfully won two consecutive editions of the Tour de France, its primary function was to focus the organisation on continuous improvement, ensuring every member of the team was constantly striving to get the best out of themselves.
Fran has worked alongside Sir Dave Brailsford for over a decade, and after helping build Team Sky from the bottom up, has remained at the heart of the team (now called Team INEOS) since its inception in February 2009.
Prior to working at Team Sky Fran set-up and ran her own successful athlete and event management agency for 7 years initially representing her brother, going on to represent some of the UK's highest profile cyclists including Sports Personality of the Year in 2011 Mark Cavendish and Tour de France 2018 winner and Sports Personality of the Year in 2018 Geraint Thomas.
Fee range:
Please Enquire
Testimonials:
Fran delivered the brief perfectly. A great mix of examples and content that engaged the audience. Videos and slides were great. Fran pitched the slot perfectly. I was slightly nervous that non-cycling fans might not engage with the content, but this nervousness was mis-placed. She was funny, engaging and had great content. She delivered a great slot that engagement cycling and non-cycling fans alike.
RBS
Fran put the message across very effectively using some great examples and strong theory. Fran was engaging and used some very down to earth descriptions which the whole audience could relate to.
Nominet
Fran was a huge hit with the audience. Her passion for her subject coupled with a very natural and humble delivery style was very well received. She is probably the most engaging speaker we have ever had speak to this senior audience.
Whitbread PLC
Fran Millar is an eloquent, energetic, informed and very polished speaker, whose presentation style was very well received by our audience of senior professionals. Her knowledge of her subject is unquestionable and the impact of her session had a lasting effect.
Institute of Customer Service