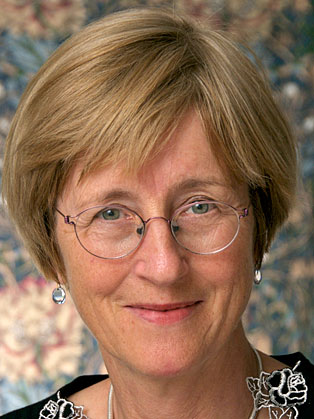 Best known for:
Frances is the chair of the Court of Heriot-Watt, one of Scotland's top universities.
Summary:
Dame Frances Cairncross is an economist and former journalist with a strong interest in higher education, in the future of the press, and in the impacts of technological change on society and on the global economy.
Biography:
In 2018, Frances was commissioned by the British Government to study the future of sustainable journalism. Her report, which met with international interest, was published in 2019. Previously she was on the staff of The Economist for 20 years, most recently as Management Editor.
She has been closely involved in higher education, and received the title of Dame from Queen Elizabeth for her work. She ran one of the oldest colleges of Oxford University, founded in 1314, for a decade, and now leads the governing body of Heriot-Watt University in Edinburgh, one of Britain's most distinguished technological universities.
Dame Frances chaired the Economic and Social Research Council for six years until 2007 and was President of the British Association for the Advancement of Science (2005-06). She is a Fellow of the Royal Society of Edinburgh, a Senior Fellow at the School of Public Policy, UCLA and an Honorary Fellow of the Royal Society of Arts (RSA).
Frances speaks frequently in the United States, sometimes as part of a Fellowship programme run by the Council for Independent Colleges (CIC). Her themes are generally global economic trends, the impact of the technological revolution on society and industrial structure, and the rise of the global middle class.
She has spoken to many audiences about the findings of the Cairncross Review on A Sustainable Future for Journalism. While Management Editor of The Economist until 2004, Frances authored The Company of the Future, which describes the challenges and opportunities technology places on corporate structure.
In her time on The Economist, she wrote widely on management topics, including on the future of corporate boards, on family firms and on issues around executive pay. She has lectured to audiences in several countries, including the World Economic Forum of top managers in Davos, Switzerland. She is an excellent conference chair, and has chaired a number of major conferences for The Economist group worldwide.
She was educated at Oxford University and at Brown University, Rhode Island. She was a non-executive director of the Alliance & Leicester group, a FTSE100 company.
Topic areas
Global economic trends – such as rise of China and decline of Europe
Impact of technological revolution on society and industrial structure
Rise of the global middle class
Hot Topics for 2020 are:
"When China overtake the US"
The Rise of the Global Middle Class"
"Saving the Local Press"
Publications
The Cairncross Review: A sustainable future for Journalism (February 2019)
Fee range:
Please Enquire