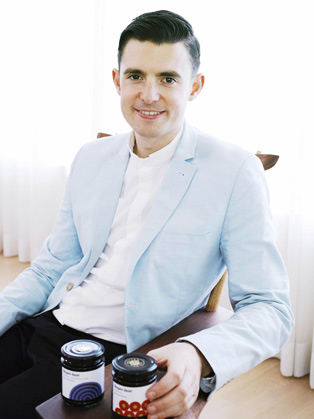 Best known for:
Fraser Doherty is one of the UK's most successful businessmen as the founder of SuperJam.
Summary:
Fraser Doherty is an entrepreneur and the founder of SuperJam. He started at the age of 14 selling home-made jam to neighbours, and now supplies over a million pots each year to 2,000 supermarkets across the world - from Russia to Australia.
Biography:
Fraser Doherty started his incredible business career at the age of just fourteen. After being taught how to make jam in his Grandmother's kitchen in Scotland, he came up with a way of making jam 100% from fruit. At sixteen, he presented his brand, SuperJam, to Waitrose and went on to become the youngest ever supplier to a major supermarket.
SuperJam has since grown into a company that has sold many millions of jars through thousands of supermarkets around the world. As well as being a commercial success, the business has invested in successful charitable projects - running hundreds of free tea parties for the elderly and setting up hundreds of community beekeeping projects.
Fraser has been commended by the Prime Minister at Downing Street, by HRH Prince Charles and was recently awarded a medal (MBE) "for services to business" by The Queen. He has shared his incredible story at more than 500+ conferences in 27 countries around the world, as well as in his best-selling books SuperBusiness - published in UK, US, Australia, Korea and Japan, 48 Hour Startup – published in the UK, US, Netherlands and Korea and The SuperJam Cookbook.
He is also the co-founder of Beer52; the world's largest craft beer club and one of Scotland's fastest-growing startup companies with more than 150,000 customers, shipping 20,000+ cases of beer a month and producing the UK's No. 1 craft beer magazine, Ferment.
Fee range:
Please Enquire