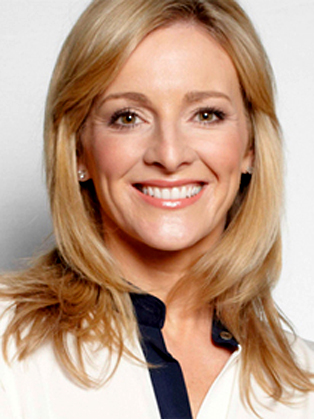 Best known for:
Gabby is a TV sports presenter, being the first female presenter of a live football match and Match of the Day.
Summary:
Gabby was the first female presenter of a live football match and the first woman to host Match of the Day. She currently works for the BBC hosting Inside Sport and has her own show on BBC radio 5 live on Sunday mornings. A former Welsh international gymnast, Gabby has twice been named Sports Presenter of the Year by the TV and Radio Industries Club.
Biography:
Former International gymnast Gabby has made her mark on British sport. As one of the leading football presenters on television, she is in constant contact with players and managers both on and off the screen. Married to Scottish Rugby International Kenny Logan, Gabby's life away from TV is just as sporty. A recent poll put Gabby and Kenny, in the top ten of Britain's all time best sporting couples.
Gabby's access to top performers has given her the chance to study success at close quarters. She has discovered that it is not just innate skill and scientific training that makes the great difference. Her presentation analyses some techniques that the sporting greats use to get the best out of themselves and the people around them.
The combination of a Law Degree, sporting family background, high profile sports presenting and personal experience as a top-level gymnast makes her presentationally unique. As a speaker she shows the professionalism, drive and flare that has taken her to the top as a broadcaster in a male dominated sport. Her funny and insightful anecdotes will provide an entertaining, informative and motivational addition to a conference or a lively female alternative at the end of dinner. When hosting awards Gabby's experience in live television means that she has an acute awareness of the need for pace and control. She will also top and tail the proceedings with her own personal introduction and close.
Fee range:
10,000-20,000 GBP