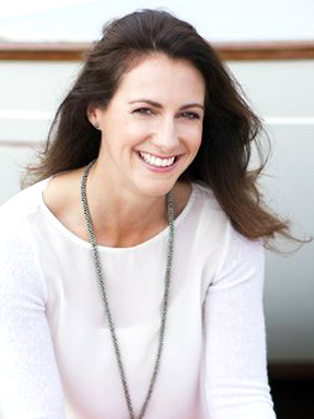 Best known for:
Hannah is a broadcaster, sailor, and adventurer
Summary:
Having sailed the Atlantic alone twice, Hannah is one of Britain's most inspirational women. Sailing solo for weeks at a time and coming 2nd in a transatlantic race, Hannah has faced icebergs, intense sleep deprivation, technical failures and the worst that the North Atlantic Ocean can muster. Hannah has led others through hostile conditions, inspiring fellow crew members in some of the world's toughest oceans.
Biography:
Hannah, 30 is an Adventurer who loves the Great British Outdoors (all of it the land, sea and
air). She believes fresh air and exercise makes you a happier and healthier person. Whether Hannah is half way up a mountain, sailing the seas or running in the countryside she has made it her mission to get the uninitiated to discover the joy of getting outside, active and joining in.
Hannah, first made a name for herself in the world of single-handed offshore sailing. Having sailed the Atlantic solo three times, Hannah is no stranger to a challenge both on and off the water. After achieving an outstanding second place in her most recent Solo Atlantic race, Hannah turned her hand to broadcasting. Hannah has made a success of herself in a predominately man's world and is continuing to build on this success via her broadcasting work as well as her work to get the nation fitter!
As part of the presenting team for the London 2012 Olympics, she proved herself on screen and recently landed her first adventure challenge show 'Go Hard or Go Home' which will air on channel 5 in January. Hannah is also part of the presenting team for BBC1's Countryfile later this year.
Go Hard or Go Home is a 4 x 60 series produced by Channel 5's new in-house production arm, Hannah chooses 16 members of the British public to take part in a life changing challenge. In just twelve weeks Hannah's mission is to get her team to the start line of some of the world's toughest physical endurance races, ready for the challenge of their lives. Hannah will be mentoring unfit members of the public through the physical and mental pressures of tackling some of the most notorious sporting events on the planet.
Hannah will equip the competitors, including doctors; car dealers; pub landlords; and members of the Woman's Institute, with the necessary skills to attempt events from 'The World's Toughest Canoe Race' in Texas to 'The Bone Breaker', a 127mile cycle race across the Pyrenees; to a 71mile charity triathlon in California and a 41mile quadrathlon across the western coast of Ireland, with the reputation as the toughest race in Europe.
Hannah's mission is to encourage, ambition, confidence, pride and well being, across the country. When Hannah was competing she would experience incredible life defining moments, of setting herself a goal, working and working and eventually achieving that goal and it is this feeling that she wants others to experience.
With all this plus being an Ambassador for Land Rover Hannah still manages to find time to participate in adventure and fitness challenges across the country and globe. Hannah's other adventures have taken her to every continent apart from Antarctica, on two wheels, on foot, on the water. No challenge is too big for Hannah.
In 2014 Hannah plans to take on one of her toughest challenges to date, and become the first person to complete the sailing 3 peaks challenge, solo. This multi-discipline event will see her push the limits of human endurance and mental strength in this non-stop 5 day route normally completed by teams of 6.
Fee range:
Up to 5,000 GBP