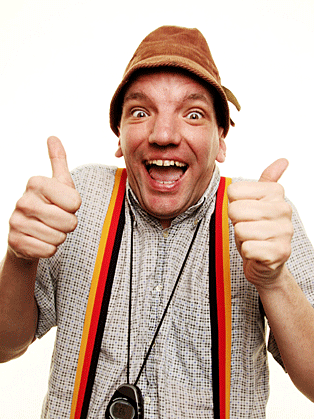 Best known for:
Henning Wehn is a German stand-up comedian who has taken Britain by storm.
Summary:
Henning is the German Comedy Ambassador to The United Kingdom. This is not the easiest of jobs because Germans allegedly do not have a sense of humour. Henning, however, does not find that funny.
Biography:
Henning took office as the German Ambassador for comedy in the UK in October 2003 after watching an open mic night that left him convinced that he would do better. Wehn has been performing as the self-styled 'German Comedy Ambassador' ever since.
Henning regularly appears with fellow German performer Otto Kuhnle, and their show 1000 Years of German Humour was nominated for the Barry Award at the 2009 Melbourne Comedy Festival. Wehn also regularly supports Stewart Lee on his tours.
Henning's "beautifully crafted diatribes" (Time Out) are delivered with a passion that seems all too real and his material covers topics from football to the price of second-hand shoes, what the Germans think of our beloved 'Allo 'Allo series, to why humour is overrated and stand-up comedy pointless.
His most recent television and radio appearances include hosting "Live At The Apollo" BBC2, "Have I Got News For You" BBC1, "Would I Lie To You" BBC1, "Fighting Talk" BBC Radio 5 Live and "The Unbelievable Truth" BBC Radio 4.
He has just completed a 150 date UK tour of "Westphalia Is Not On Option" and he is currently working on his new show, "Get On With It" which starts an extensive UK tour in September 2018.
Fee range:
Please Enquire