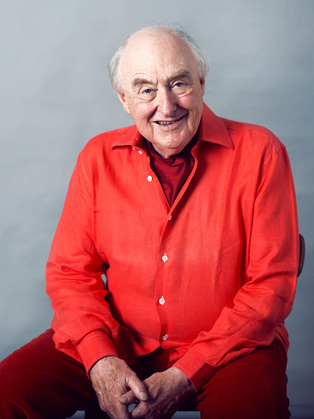 Best known for:
Henry "Blowers" Blofeld is one of the best known and best loved sports' journalists of all time.
Summary:
With his trademark bow-tie, his unmistakably fruity tones and his delightfully idiosyncratic observations, both on and off the cricket field, Blowers has become a national institution.
Biography:
After three ghastly years in the City of London, bowler hat and all, he began to write about cricket as a freelance for The Times in 1962. Broadcasting came along ten years later when he joined the famous Test Match Special team for two one-day games against Australia and he has been clogging up the airways on the programme ever since.
The first article he ever wrote, about a second eleven football match, in 1956 for the Eton College Chronicle, earned him a robust interview with the headmaster for being rude about Bradfield School which was not a particularly auspicious omen for a career in journalism. In a crazy moment The Times decided to use Blowers as a freelance cricket writer in 1962. The following year The Guardian decided that they would find a home for his clichés and he remained with them as a freelance until The Independent set up shop at the start of the eighties. By then the Sunday Express also provided a home.
His years were spent watching county and a certain amount of Test cricket in England - there was only one year when he commentated on every Test for TMS - and in the winter he toured the cricket-playing world. He probably watched more neutral series overseas than those involving England and he often worked for more than one newspaper and often the BBC as well.
For about fifteen years he spent part of each winter in Australia where he wrote a column for The Australian and also worked for a network of commercial radio stations led by Radio 2UE in Sydney who broadcast an alternative form of commentary for the international games, to the rather more staid government owned ABC. Blowers spent a month or two most years thereabouts in New Zealand where he became a member of the TVNZ commentary team.
Blowers began to write books in 1970. He has produced fifteen titles, mostly about cricket and most of them were easily resistible! The one he wrote about The Kerry Packer invasion of the cricket scene in Australia, The Packer Affair, was a success and so too was his autobiography, A Thirst for Life. The last book he has so far written, Cricket's Great Entertainers, was another that sold well.
His theatrical career began in 2002 when Dudley Russell, a theatre agent who is married to Pam Ayres, thought he would be able to do a one-man show. He has moved agents a couple of times since and he has done two different shows. He is about to hit the road again this Autumn with a brand new, Rogues on the Road show with his good friend, Peter Baxter.
Although cricket inevitably forms a part of these shows, they are really more about the extraordinary life he has led and the fascinating people he has bumped into along the way. Ian Fleming of course pinched his family name for the name of one of his chief villains in the Bond books, Ernst Stavros Blofeld. He met Fleming who introduced him to Noel Coward at a lunch party in Jamaica. Coward became a friend man Blowers tells some highly amusing stories about him.
Clive Dunn, aka Corporal Jones in Dad's Army, is another friend and there are some splendid stories here too. Blowers also does his share of after dinner speeches, his distinctive voice has been used for a number of radio and television commercials, and he does some work for David Folb who founded The Lashings World XI especially on the beautiful ground of the Emirates Palace hotel in Abu Dhabi where they go on a short tour each year., Blowers has led a varied, entertaining and extremely full life.
Everywhere he has gone, on countless cricket tours around the world, Blowers has lived life to the full regarding each day as an orange and squeezing it dry of the last drop of juice before moving onto the next day. He is a medical freak having defied a heart by-pass operation, which went horribly wrong, a gall bladder that behaved like a deprived monster, picking up the dreaded MRSA along the way. Since then, back and hip operations have followed two-a-penny, but all have been submerged by guffaws of laughter and bottles of Burgundy (both red and white) and life still goes on in capital letters. Blowers has always been and continues to be outrageous and irresistible fun!
Fee range:
Please Enquire