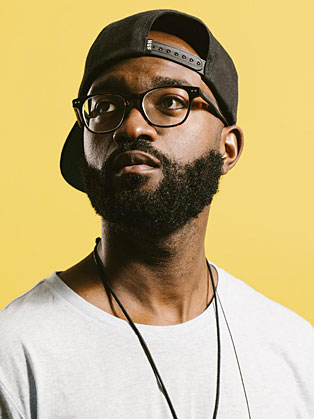 Best known for:
Inua Ellams is a cross art form practitioner, a poet, playwright & performer, graphic artist & designer and founder of the Midnight Run — an international, arts-filled, night-time, playful, urban, walking experience.
Summary:
Inua Ellams is a poet, playwright & performer, graphic artist & designer. He is a Complete Works poet alumni and a graphic designer at White Space Creative Agency. He facilitates workshops in creative writing where he explores reoccurring themes in his work - Identity, Displacement and Destiny - in accessible, enjoyable ways for participants of all ages and backgrounds.
Biography:
Born in Nigeria in 1984, Inua Ellams is an internationally touring poet, playwright, performer, graphic artist & designer.
His first collection of poetry, 'Thirteen Fairy Negro Tales' was published by Flipped in 2005. His first play 'The 14th Tale' was awarded a Fringe First and the Edinburgh Festival. His second play 'Untitled' was long listed for the Alfred Fagan award. His second pamphlet 'Candy Coated Unicorns and Converse All Stars' was published in 2011. His third play 'Black T-Shirt Collection' ran at the National Theatre in 2012. In 2013, he wrote 'Mostly Like Blue' a play for a cast of eight young people, 'Cape' - a play on vigilantism which toured to schools and prisons, before running at the Unicorns Theatre in London.
He is currently working on his first full length play 'Barber Shop Chronicles' and two books of poetry #Afterhours and Of All The Boys Of Plateau Private School - his first full collection.
Inua also founded 'The Midnight Run' in 2005, an urban, social walking event that draws from the nomadic traditions of his Nigerian tribe: the Hausa people, and from the Situationists - the artistic movement of the 1950s founded in France. The Midnight Run is about sidestepping mass media, pop culture, hype and reality television for actual reality. The walks (which can be themed, tailored to events, festivals, specific routes or entirely improvised) run typically from 6pm to 6am, or 6pm to midnight. The core idea is to reclaim the streets of a city at night and dispel the notion of 'danger after dark' and try to discover after dark. It is to inhabit the confines of glass, concrete, steel and structure, as a child does a maze; with as much innocence and wonderment as is natural.
Fee range:
Please Enquire