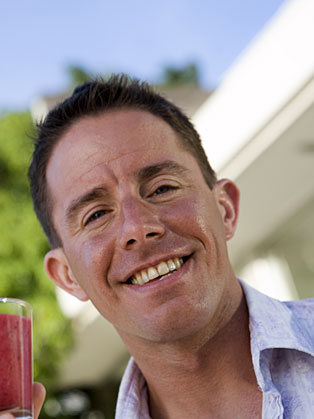 Best known for:
Jason Vale, also known as The Juice Master, is an author, motivational speaker, and lifestyle coach.
Summary:
Jason Vale, aka 'Juice Master', is the best-selling author of eleven books on health, addiction and juicing. His books have now sold over 3 million copies and have been translated into many languages. His most well known book - 7lbs In 7 days: The Juice Master Diet - went to number one of all books on Amazon and on Play.com it even knocked the Da Vinci Code from the top spot.
Biography:
Jason Vale says he was an addict of smoking, alcohol, and junk food and a chronic sufferer of psoriasis, eczema, and hay fever. Vale was then influenced by early juicing pioneer Normal Walker and began juicing to improve his health. In his book Slim 4 Life, Vale states that he lost weight, gave up smoking and drinking, and stopped eating junk food by changing his mindset to his addictions. Vale claims that as a result of daily juicing he lost four stone and is now free of his skin conditions and hay fever.
With the launch of his first published book in 2001 as the self-titled Juice Master Vale has continued to promote the health benefits of consuming freshly extracted juices and smoothies in the media. Vale opened his first juice detox retreat in Turkey in 2005 and organises health seminars across the United Kingdom and Ireland.
He also began his TV career as a manager on Channel 4's The Fit Farm and has since appeared on This Morning, GMTV and numerous times on Five's The Wright Stuff.
Fee range:
Up to 5,000 GBP