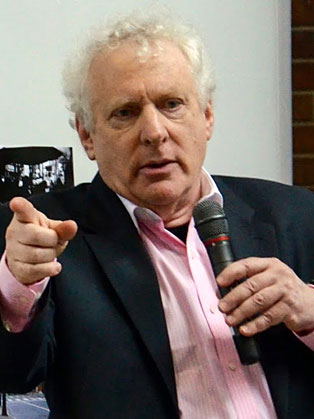 Best known for:
One of the World's most important financial crime journalists.
Summary:
Jeffrey has been hailed by bankers as 'the world's most important financial crime journalist.' With his trademark New York humour, he points out what legitimate business can learn from organised crime. The Laundrymen author may also refer to the novel he was asked to write in the name of Donald Trump.
Biography:
A New Yorker who spent 25 years in London, his books include The Laundrymen, a shocking insight into the money laundering racket; The Merger, about the conglomeration of international organized crime; The Sink, which lifts the rock on the murky world of off-shore finance and The Takedown, subtitled "A Suburban Mom, A Coal Miner's Son and the Unlikely Demise of Colombia's Brutal Norte Valle Cartel."
After serving four years in the US Air Force during the Vietnam War, Jeffrey took up residence in a tiny village in the south of France. He then "vagabonded" around the world writing stories for newspapers such as the International Herald Tribune, the Washington Post, the San Francisco Examiner, the Christian Science Monitor, the Mail on Sunday, the Independent, and the Sunday Telegraph; plus a wide range of magazines, including the Sunday Times Magazine, Cosmopolitan, Time, Harpers and Queen, Reader's Digest, Barrons, Gourmet and Playboy.
While he continues to write books (he has published 30 to date), in recent years Jeffrey has branched out to writing for television. He also appears as a featured guest on Sky News, CNN, the BBC, ITV, Radio 4's Today Programme, NBC News, the Today Show, Good Morning America and NPR. Since 2014, he appears on SkyNews America as co-host of the SkyNews Debate.
Speaking at corporate and after-dinner events around the world --- not just in the UK, Europe and North America, but in the past few years he has appeared in various venues as far afield as the Asia-Pacific region, Africa, Latin America and throughout the Caribbean --- Jeffrey's speeches cover a wide range of topics. Mostly based around his books, using humor and his characteristic informal American style, he speaks to his expertise on money laundering, fraud, financial crime and corporate risk, including the lessons legitimate business can learn from international criminal organizations.
One of his most requested speaking topics is "Backdoor Crime," based on his observation that while banks and financial houses have secured their front doors from crooks and fraudsters, they are blissfully unaware of the methods used by crooks, cyberthieves and fraudsters to get inside the business through the backdoor.
His most recent book, published exclusively as an eBook by Amazon, is "BitCon-The Naked Truth About Bitcoin." And while he is a fan of the concept of digital currency technologies, Jeffrey is arguably the most well known bitcoin critic.
Fee range:
Please Enquire