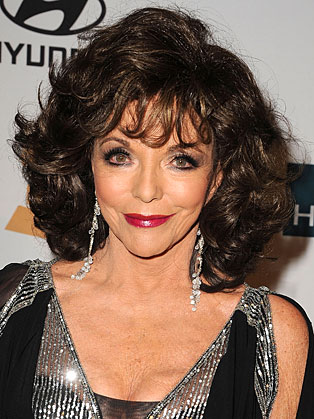 Best known for:
Joan is regarded as one of the most iconic television actresses of all-time.
Summary:
The inimitable Joan Collins is, quite simply, a legend. Actress, author, producer, entrepreneur and devoted mother, Joan has been successful in whatever she does. Nominated for an Emmy award and winner of Golden Globe and People's Choice awards, as well as numerous other awards worldwide, Joan has appeared in more than 55 feature films and dozens of television programmes. She has acted with many screen legends, including Richard Burton, Bette Davis, Kirk Douglas, Gene Kelly, James Mason and Paul Newman.
Biography:
Golden Globe winner and Emmy-nominee, Joan Collins, possesses a star quality that circles the globe. In five decades, she has come to define what it means to be a living legend. As an accomplished actor, author, producer, humanitarian and entrepreneur, Joan Collins has built a career that places her in the unrivalled ranks of international superstar and icon. In recognition of a lifetime of contributions to the arts, culture and charitable causes, Her Majesty Queen Elizabeth II honoured Joan Collins with an O.B.E. title in 1997, making her an Officer of the British Empire.
Joan Collins has appeared in more than 60 feature films and dozens of television series, including creating the role of Alexis Carrington on Dynasty, one of the most highly rated television dramas of all time. Her novels and memoirs have sold over 50 million copies worldwide and have been translated into 30 languages. She is a regular diarist for The Spectator and a contributor to The Daily Mail, The Telegraph, The Times and Harper's Bazaar. On stage, Joan Collins has performed on Broadway, the West End, and in national tours in the UK and North America. She is recognized world-round as a fashion maven of timeless beauty, and is a brand ambassador and spokeswoman for top cosmetic, health and beauty companies. On the humanitarian front, Joan Collins is devoted to the well-being of women, children and families and regularly lends her support and celebrity to causes that include finding a cure breast cancer and empowering children with learning disabilities.
Ms. Collins is married to Theatrical Manager Percy Gibson, and they live happily between their homes in Los Angeles, London, New York and the South of France.
Fee range:
Please Enquire