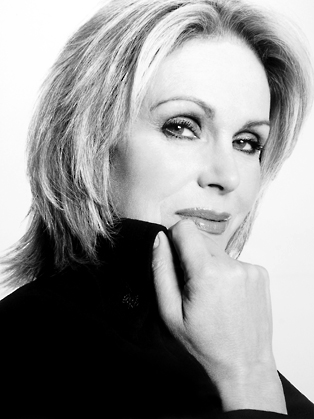 Best known for:
Joanna is one of Britain's best loved actresses, best known for her role in the situation comedy, 'Absolutely Fabulous'.
Summary:
Joanna Lumley OBE is an esteemed TV and stage actress, voice-over artist, author, comedienne, and former model. Her most remembered role is as 'Patsy' in the nationally loved 'Absolutely Fabulous'. Beyond her acting roles, Joanna has worked alongside multiple charities and has been an avid activist for campaigns such as Survival International, the Gurkha Justice Campaign. Joanna is also the Patron for multiple charities, including PENHA, the Peter Pan Moat Brae Trust, and Trust in Children. In early 2013, Lumely was ranked as one of the 100 most powerful women in the UK by Radio 4's Radio show, Woman's Hour.
Biography:
Joanna Lumley was born in Kashmir in 1946 and came to England as a young girl to complete her schooling at St Mary's School in Sussex.

She spent three years as a photographic model finally becoming a house model for the late Jean Muir. Her early films included:

- Some Girls Do (1968)
- On her Majesty's Secret Service (1969)
- two Pink Panther films The Trail of the Pink Panther and The Curse of the Pink Panther (both 1982)
- The Satanic Rights of Dracula (1973)
- Shirley Valentine (1988)

Most recent films include:
- James and the Giant Peach (1994)
- Sweeney Todd (1997)
- Mad Cows (1998)
- Maybe Baby (1999)
- Magic Roundabout (voice), Corpse Bride (voice) (2007)

Early television work includes "Steptoe and Son", "The Persuaders", "General Hospital" and "Coronation Street". She played "Purdey" in twenty-four episodes of "The New Avengers" and recorded thirty-four episodes of "Sapphire and Steel" both programmes are constantly being transmitted world-wide.
Her experiences of living alone on a desert island were filmed for a BBC Special "Girl Friday".
Joanna is probably best known on television for her hugely popular role of 'Patsy' in the award winning series "Absolutely Fabulous" for the BBC. Other recent television includes: "Class Act" (2 series) for Carlton; "Coming Home" and "Nancherrow" (both 2 part dramas) for Portman.
In 1996 she travelled to Bhutan to film a journey made by her grandparents "In The Kingdom Of The Thunder Dragon"; "A Rather English Marriage" (nominated for a BAFTA as Best Actress in a Drama - 1999) and "Dr Willoughby" for Pearson.
2002 saw her recreate her 'Patsy' role in "Absolutely Fabulous" and then again in 2011 and 2012.
In January 2005 she filmed a new series for Baby Cow entitled "Sensitive Skin" followed by a one hour special about the plight of the orang-utan for Tiger Aspect. In 2006 she filmed "Jam and Jerusalem" and a second series of "Sensitive Skin".
She has written five books "Stare Back and Smile" (autobiography) "Forces Sweethearts"; "Girl Friday" and "In The Kingdom of the Thunder Dragon" both from the BBC films. Her latest book "No Room For Secrets" was published in October 2004.
Among the many charities she supports are The Princes's Trust, SightSavers, The Born Free Foundation, Thames Reach Bondway, Ataxia and The Gurkha Welfare Trust.
She is a self-confessed Bond fan and of his creator Ian Fleming, being very proud of her role as a 'Bond Girl'.
In April 2009 she became the spokeswoman for the Gurkhas in the UK and was instrumental in persuading the British government to allow Gurkhas who had served in the Army the right to settle in the UK. When she visited Nepal in July 2009 she was treated as a heroine and a goddess by crowds of people on the street, and was thanked by Nepal's President and Prime Minister for her work in championing the Gurkhas' cause.
Joanna was awarded an OBE in the 1995 New Years Honours. She is married to the conductor Stephen Barlow and lives in London.
Fee range:
20,000-50,000 GBP