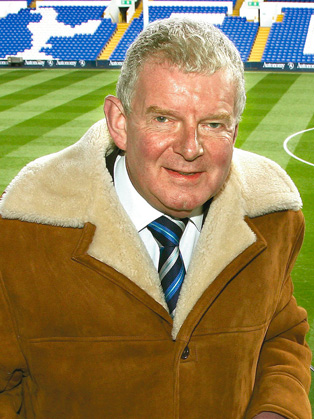 Best known for:
John Motson, the son of a Methodist minister who first stimulated his interest in football, celebrated his 40th anniversary on Match of the Day in October 2011.
Summary:
After an apprenticeship on the Barnet Press weekly newspaper, John moved to the Morning Telegraph in Sheffield where he first covered league football. A short freelance spell with BBC Radio Sheffield was followed by a move to network radio in 1968, where on Radio 2 (then the sports channel) he presented sports programmes as well as commentating on football, tennis and boxing.
Biography:
In 1971 John was taken on as a junior member of the Match of the Day team and from there became a regular contributor not only to Match of the Day but also to Grandstand, Football Focus and Sportsnight. Between 1979 and 2008, John was the BBC's voice on major cup finals including his record-breaking sixth World Cup Final in Berlin in 2006 and his 29th FA Cup Final in May 2008, an achievement not reached by any other commentator. His contribution to BBC Radio Five Live includes past series of Matchday With Motty and Motty's Magic Matches. He is a panellist on Monday Night Cub and still commentates on the occasional Premier League match. Away from football, John provided the commentary on BBC1's Animal Games in 2004, Animal Winter Games in 2006 and currently narrates Footy Pups for CBeebies.
In September 2009, John published his autobiography Motty - Forty Years in the Commentary Box and has written several other books, including Motty's Diary - A Year in the Life of a Commentator in 1986, Motty's Year and Motson's National Obsession in 2004, Motson's FA Cup Odyssey in 2005 and Motson's World Cup Extravaganza in 2006. He has researched and narrated more than 30 football videos and recentry brought out the DVD John Motson's World Cup Heroes and Villains. He has written for several national newspapers including a regular column, Motty's Match of the Day, in the Daily Mail.
John was thrilled to be awarded the OBE for services to sports broadcasting in HM The Queen's Birthday Honours List in 2001. He was voted Commentator of the Year by the Royal Television Society in 2004, by Four Four Two in 2005 and by FHM and Zoo in 2006. In 2005 he won Contribution To Televised Sport at the Variety Club Sports Awards. John has been awarded three honorary degrees for services to broadcasting from the Universities of Suffolk, Luton and Hertfordshire. 2018 marks John's 50th anniversary at the BBC and he has announced that he will retire from the corporation at the end of the 2017/18 football season. He will receive the Special Award at the BAFTA TV Awards in May 2018 in recognition of his contribution to sports broadcasting.
John was once described by one television writer as "a national institution" to which he modestly replied "some people think I should be sent to one...".
Fee range:
Please Enquire